Estádio da Luz star has rejected offers from Anfield and the Allianz Arena and wants to go to the Bernabeu.
Watching the Champions League Final?
at Fanatix.com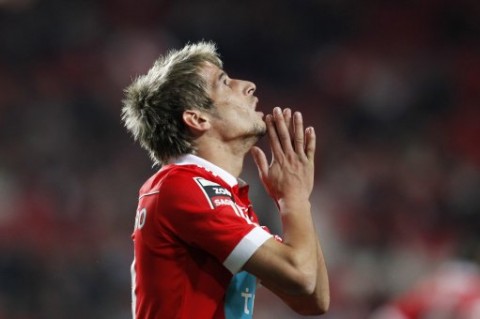 Benfica defender Fabio Coentrao has revealed his heart is set on a move to Real Madrid ending speculation he could be on his way to Liverpool or Benfica.
The 23-year-old has been the subject of interest from all over Europe but now Madrid appear in pole position to secure his signature.
He will join up with many of his Portuguese international team-mates with Pepe, Ricardo Carvalho and Cristiano Ronaldo as well as manager Jose Mourinho should he move to the Bernabeu.
The only snag to the deal is Benfica's £26million asking price which very few clubs would be willing to pay but negotiations are ongoing between the sides.
Coentrao is currently in a Portuguese training camp in Oeiras where he is preparing for a Euro 2012 qualifier against Norway.
He says Madrid is the only club he would leave Benfica for and is prepared for the challenges which lie ahead if the deal goes through.
"What I want is to play for Madrid," he told AS. "It is the best club in the world and the only team I would move to from Benfica.
"No deal has been done . We must have peace (between Real and Benfica). The transfer fee does not concern me but I want a good deal for Benfica.
"I had two special years there and will be grateful for them all my life. Benfica understand my decision.
"Madrid is the best team in the world with the best players in the world and there are many of my friends. But as I say, nothing is done. I like Madrid and I hope that the signing goes ahead.
"Of course I've talked to Cristiano, Pepe and Carvalho, but I'm still a Benfica player, but my interest is to play for Real. I'm in a great club and would only change for Real, because it has the best coach and best team in the world."
"A player must be prepared for everything," he added. "And I am for football and everything in my life. I will face it with all my strength.
"I want to be in the first-team as a Madrid player. I know Marcelo is a great player, but I work to play.
"I am a football player, either as a winger or as a defender. I have to respect the decisions of the coach and I have done at Benfica.