Governing body's president to be put under microscope.
Watching the Champions League Final?
at Fanatix.com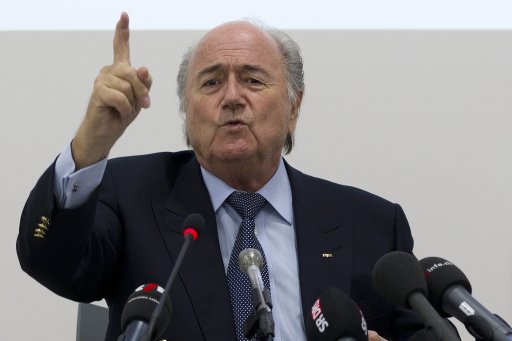 Fifa president will be investigated by his own ethics committee after allegations that he knew bribes were being exchanged for votes have emerged.
World football's governing body confirmed the news on Friday morning as the spiral of allegations over corruption among the rulers of the game continues.
The 75-year-old will appear before the committee on Sunday to answer the charges brought to the public's attention by presidential rival Mohamed bin Hammam.
The ethics committee are bound by their rules to investigate any complaint by an executive committee member under article 16 of the ethics code.
Asian football chief Bin Hammam and Fifa vice-president Jack Warner are already due to appear before the enquiry to face bribery allegations, which both men deny.
A file of evidence claims bundles of cash of up to $40,000 were handed over to members of the Caribbean Football Union by the two men at meetings in Trinidad earlier this month.
Fifa has a history of underhand dealings and following the controversial choices of Russia and Qatar winning the rights to hold the 2018 and 2022 World Cup respectively, accusations have been flying around.
Former Football Association chairman Lord Triesman recently said Warner asked for money to build an education centre in return for his vote for the England 2018 bid.
"Fifa ExCo member Mohamed Bin Hammam has requested the Fifa ethics committee to open ethics proceedings against Fifa president Joseph S Blatter," a Fifa statement read.
"On the basis that, in the report submitted by Fifa ExCo member Chuck Blazer earlier this week, Fifa vice-president Jack Warner would have informed the Fifa president in advance about alleged cash payments to delegations attending a special meeting of the Caribbean Football Union (CFU).
"This was apparently organised jointly by Jack Warner and Mohamed bin Hammam on 10 and 11 May 2011 and that the Fifa president would have had no issue with these.
"Subsequently, the Fifa ethics committee today opened a procedure against the Fifa president in compliance with article 16 of the Fifa code of ethics.
"Joseph S Blatter has been invited to take position by 28 May 2011, 11:00 CET and to attend a hearing by the FIFA ethics committee at the Home of FIFA (Zurich) on 29 May 2011."
Bin Hammam is effectively claiming that Blatter was aware of some wrongdoing but did not report it, in itself a breach of the code.
Blatter issued a statement saying: "I cannot comment on the proceedings that have been opened against me today. The facts will speak for themselves."