Agent claims his Old Trafford client would 'look at' an offer from the Bernabeu.
Watching the Champions League Final?
at Fanatix.com
Man Utd v Barcelona Live Streaming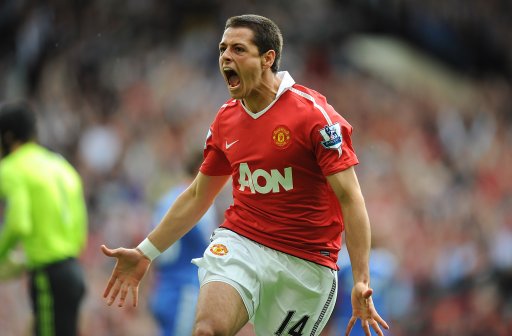 The Mexican has been an overnight sensation since arriving as a relative unknown at Old Trafford last summer, and his 20 goals in 44 matches have not gone unnoticed across Europe.
Jose Mourinho is said to be in the market for a striker over the summer, with doubts remaining over the futures of Karim Benzema and Emmanuel Adebayor.
And reports suggest he may make a cheeky bid to prize Hernandez away from the English champions after just one season in the Premier League.
'Real Madrid are a very big club, but then so are Manchester United,' said Eduardo Hernandez.
'I think this is a subject between directors. We would expect to look closely at any offer from Real Madrid, if Manchester told us there was one.
'We would only look at it,though, because in the first place Javier is extremely grateful to Manchester for having given him this chance, and also because it is reciprocated from the club.'
He added: 'I don't think this is the right time to leave, but we have seen everything in football.
'Both he and Manchester want to continue working together, but anything can happen in football.'
SOURCE: Metro
You have to love agents don't you. You can always count on them to really anger supporters and club officials equally. Real Madrid will no doubt take these comments on board as Jose Mourinho has already been strongly linked with a move for the talented young Mexican and clearly now he may feel such a bid may have some chance of interesting Javier Hernandez.
Sir Alex Ferguson will of course rebuff any advances for the in form striker but of course Real Madrid have a history of taking Old Trafford talent. However Chicharito appears very much in love with Man United and has managed to push Dimitar Berbatov out of the first team reckoning with some consistent performances.
The pairing of Wayne Rooney and Hernandez is clearly one that Ferguson prefers and will no doubt be looking to the pair to be the first choice Man United strike pairing for some time to come.