Stamford Bridge back up on Emirates Stadium radar.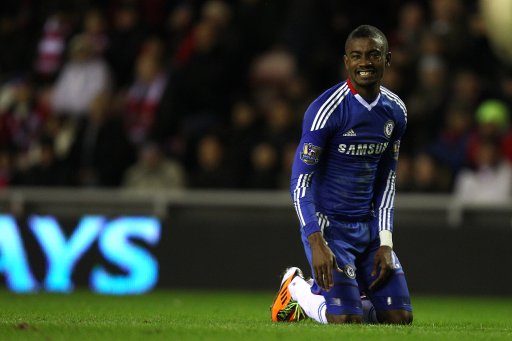 Salomon Kalou considering Chelsea future as Arsenal wait to pounce
Salomon Kalou has decided to wait and see who takes over from Carlo Ancelotti as Chelsea boss before deciding whether to quit – paving the way for Arsenal to make a bid.
The Ivory Coast international has endured a stop-start career at Stamford Bridge, and has so far failed to convince any manager that he's worth a regular place in the starting lineup.
Arsenal admitted they made an attempt to poach the forward from the Blues in 2008, but were denied by then coach Luiz Felipe Scolari.
'We tried to get him (Kalou) last year (2008). But Chelsea refused and I have never spoken to him. I just asked Chelsea if we could talk about him,' said Arsene Wenger.
The Gunners could come back in for the 25-year-old again this summer, as Wenger has pledged to recruit experienced players, and Kalou would certainly fit the bill having spent the last five years in the England.
SOURCE: Metro
Arsenal have been linked with interest in Ivory Coast international Salomon Kalou in the past and this source believes that Arsene Wenger's interest in the 25 year old Chelsea man has been reignited in recent weeks but one wonders if such a move makes a great deal of sense for both the North London side and the player himself.
Kalou has spent the last five seasons trying to persuade various managers that he is worthy of a regular first team spot and a move to Arsenal would presumably result in more bench warming for the former Feyenoord man.
Wenger has a number of attacking options with Robin Van Persie being the obvious first choice, injury's permitting and has the likes of Marouane Chamakh, Nicklas Bendtner and Carlos Vela as back up. Of course Kalou can also play out wide but again Arsenal have many wide options and it would surely be tough for the talented attacker to force his way into a regular spot in the Gunners starting eleven.
In fact a move abroad may be of more interest to Kalou and there is apparently interest from Juventus and Lazio in Italy as well as a number of sides in La Liga. Salomon has performed well enough when called upon but appears to make more of an impact in cameo substitute roles than as a starter, but he has managed to net 55 times in 131 starts, plus 97 sub appearances.
Kalou's chances of breaking into the Chelsea starting eleven were of course further hampered by the purchase of Fernando Torres in January. The good form shown by Daniel Sturridge whilst on loan at Bolton could also be a factor in the player's long term Blues future.