Old Trafford striker heading back to White Hart Lane?
Watching the French Open? Check in on fanatix.com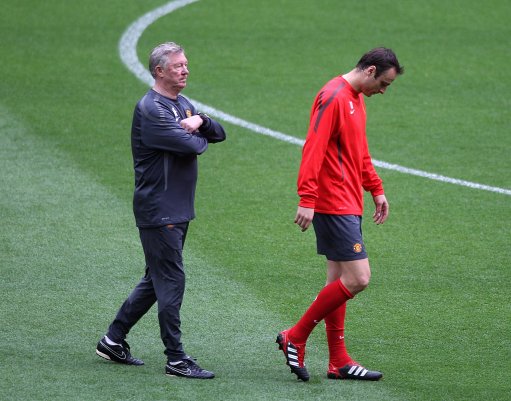 Dimitar Berbatov 'in Spurs return' after Champions League final snub
Speculation that Sir Alex Ferguson is set to transfer list Dimitar Berbatov, despite the striker being Manchester United's top scorer this season, appear to have been confirmed after the Bulgarian was left out of the Champions League final against Barcelona – with reports suggesting he could be offered back to former club Spurs.
The north Londoners are in the market for a striker this summer and would consider bringing Berbatov back – but only if United's price was right.
That could mean manager Harry Redknapp thrashing out a cut-price deal worth just £10million, given Berbatov will be out of contract next summer.
Berbatov has endured a difficult relationship with United's fans since making the move from White Hart Lane in 2008 in a deal worth in the region of £30million.
And despite out-scoring crowd favourite Wayne Rooney this season to win the Premier League's Golden Boot, Berbatov remains something of a divisive character on the Old Trafford terraces.
He is also eligible to leave for free in 12 months' time and believes he may have one more big move left in him, while Ferguson is keen to bring in new talent.
SOURCE: Metro
Other sources also suggest that Man United are ready to sell Dimitar Berbatov if it is clear he wants to leave. The Old Trafford striker has been left out of the first team for some weeks now and it appears that being dropped to the bench for the Champions League Final was the final straw and his reaction to being left out led to the 30 year old left out of the squad altogether.
Berbatov has had his most prolific season since his move to Man United but it appears that even though he finished the joint top scorer in the Premier League he still doesn't figure in Sir Alex Ferguson's first team picture. The pairing of Wayne Rooney and Javier Hernandez has worked well and is a partnership that the club will look to work with for some time to come.
Tottenham boss Harry Redknapp has made it clear he is not very happy with his side's current attacking options, hence his repeated moves to bring in reinforcements, and the White Hart Lane manager is reportedly interested in bringing the Bulgarian international back to North London.
The club's current crop of strikers, Robbie Keane, Jermain Defoe, Peter Crouch, and to a lesser extent Roman Pavlyuchenko, have all failed to perform this season and a move to sign Berbatov may be an ideal solution for all parties.
Ferguson has a number of young strikers coming through with the likes of Federico Macheda and Danny Welbeck and he may well feel he can afford to sell Berbatov rather than keep an unhappy player at the club. With just a year left on his contract Man United would rather opt to sell now rather than losing the player for nothing next summer.