Old Trafford boss ready to making sweeping changes.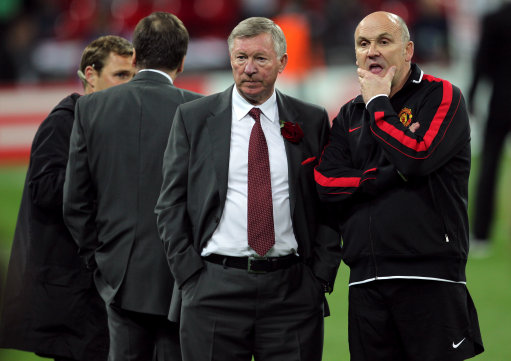 Sir Alex Ferguson, who is reeling from what he said was the worst "hiding" he had suffered as Manchester United's manager, is planning to stay at Old Trafford long enough to oversee an overhaul of personnel, aimed at dismantling Barcelona's European dynasty.
Ferguson, who will be 70 this year, is approaching the 25th anniversary of his appointment. But the most successful manager in the game still sees himself as being in the job on a long-term basis and has told United that only his health will prevent him from working.
Instead the manager is going to break up his squad in what promises to be a summer of change at Old Trafford, with up to 10 players on their way out. The Glazer family have told Ferguson that he will be given substantial funds with which to purchase replacements.
United's rebuilding was a necessity before the Champions League final, with Edwin van der Sar joining Gary Neville in retirement and Owen Hargreaves being released from his contract.
Ferguson must establish whether Paul Scholes is to end his playing career and if, as is increasingly expected, that is the case, one idea is for the former England midfielder to take control of the reserve team.
Even if Scholes can be persuaded to continue, however, Ferguson is aware of the need to bring in a top central midfielder. United admire Wesley Sneijder but are not certain an agreement with Internazionale will materialise. Luka Modric of Tottenham Hotspur has also been discussed at length.
A £17m deal has been put in place for David de Gea, Atlético Madrid's Spain Under-21 goalkeeper, and talks are at an advanced stage with Lens about an £8m move for the 18-year-old centre-half Raphaël Varane. Ferguson also believes that Jack Rodwell has the necessary attributes to flourish at Old Trafford, if he can be lured away from Everton.
Ashley Young of Aston Villa is another target. United made inquiries about signing Young in the January transfer window and are now competing with Liverpool for his signature.
Ferguson must also decide whether to offer Michael Owen a new contract. Dimitar Berbatov presents a different problem. The Bulgarian finished as the Premier League's joint top scorer with 20 goals but he did not make the squad against Barcelona. Berbatov did not sit with the other players who were not in Ferguson's 18-man squad and he is thought to have watched the match in the changing room.
Senior players who could leave include Tomasz Kuszczak, Wes Brown, Gabriel Obertan, Bébé and Darron Gibson. Nani, the club's player of the year, said after the Champions League final that he would be at Old Trafford next season but the winger is known to be open-minded about the possibility of a transfer. (Guardian)
Ferguson appears to have taken defeat to Barcelona fairly hard but is as determined as ever to resolve the issue and conduct a squad clear-out whilst looking to boost Man United's chances of competing for Europe's biggest prize next term.
Sir Alex may be willing to accept offers for big names Nani and Dimitar Berbatov as both appear to be unhappy about being left on the bench in recent weeks and the likes of Inter Milan and Tottenham are prospective suitors for the Premier League's top assist maker and joint top scorer respectively.
The signings of David de Gea and Rafael Varane appear to be almost done deals and the chase continues for Everton youngster Jack Rodwell, Tottenham playmaker Luka Modric and Aston Villa winger Ashley Young. Under performing or unneeded talents Tomasz Kuszczak, Wes Brown, Gabriel Obertan, Bébé and Darron Gibson area strongly linked with exits and Ferguson may well feel that he can manage perfectly well without their services.
Michael Owen may however sneak another short term contract, especially if Berbatov is offloaded. Loaned out starlets Tom Cleverley and Danny Welbeck may be welcomed back to battle for first team football also.
The Glazers have made it clear that money will be available for Ferguson to spend but the club's owners may insist that the club's expansive squad is trimmed before signings are brought in.