Drowning, not waving.
Watching England v Switzerland?
at Fanatix.com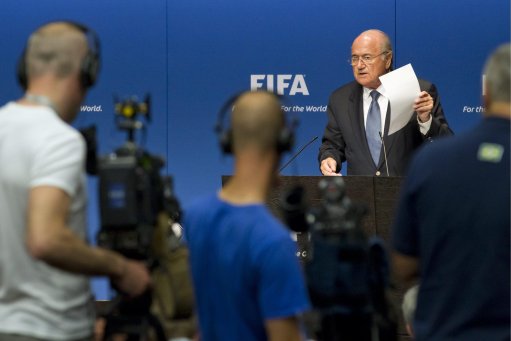 The live stream of Sepp Blatter's press conference on Monday was probably the most symbolic evaluation of the current state of world football, even before it had gotten under way. On a pale blue screen were emblazoned the standard FIFA insignia, Blatter's name and a start time of 5:30 gmt. The most peculiar musical accompaniment was playing, sounding similar to the panpipe music only ever played on loop in your local Chinese takeaway.
The 5:30 deadline passed. Typical of FIFA to keep the world waiting; on change, on some form of democracy, and now on their own press conferences. When Blatter finally arrived, he tried to break the ice with some bumbled joke about whether it was afternoon or evening. The room, full of journalists all baying for the same man's blood, was unmoved.
The embattled President's speech consisted of all the pomp and beating-around-of-bushes that the world has come to expect from an organisation that refuses to accept that any wrongdoing has or is being done. He declared that the Executive Committee of FIFA was, "very pleased to receive the report of the FA," regarding the allegations made by Lord Triesman, yet there was apparently no reason to investigate the claims further. Like a blinkered horse, FIFA would stride forward into the unknown.
When asked about the fact that governments were saying that perhaps the impending election should be postponed while the corruption issue is dealt with, Blatter staunchly responded that FIFA was strong enough to sort out its own problems internally. When questioned whether his organisation was in crisis, he replied bemusedly, "Crisis? What is a crisis?" He somehow decided that the Champions League final was a perfect example of how wonderfully FIFA was working, as if his association did its talking on the field. He refused outright to answer any questions related to the email that Jack Warner had released, which came from General Secretary Jerome Valcke and seemed to imply that Qatar had 'bought' the 2022 World Cup.
The only question he seemed willing to answer was from Chinese state television, who for some reason found it necessary to ask the President what he would do if he had four more years in office. He seemed so willing to answer that he had taken the liberty of preparing some notes beforehand, which he took to reading indiscreetly at one point. Perhaps they were just looking to give a fellow 'democracy' a helping hand.
And then came the most bizarre exchanges. The press conference ended abruptly after a question regarding potential further allegations of corruption in the Algerian FA had been risen, and the discord amongst the writers was answered by Blatter returning to the podium and demanding, "Respect." This was countered by a suggestion that the incumbent President was not respecting the journalists by refusing to answer them, to which he responded by accusing the writers of having attitudes and of creating problems.
It was like watching a pantomime, Blatter screaming, "Oh no it isn't!" and the rest of the world replying, "Oh yes it is!" The whole performance was littered with eccentric paper waving, an off-stage narrator attempting to keep the journalists under control, and a few feeble attempts at selling his new wannabe best-seller, the FIFA Ethics Code, available at all good retailers now. Such extraordinary and erratic behaviour only goes to show that this is a man who has lost his grip on reality and, more importantly, world football. Even if the election doesn't goes ahead on Wednesday as planned, the FIFA farce is a long way from being settled.