One of the pair will leave Stamford Bridge. but who?
Watching England v Switzerland?
at Fanatix.com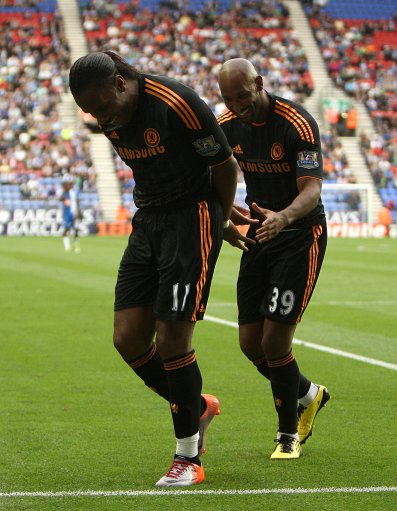 Chelsea supremo Roman Abramovich wants to keep Didier Drogba – but Nicolas Anelka faces the Stamford Bridge exit.

The Blues' Russian ruler is fielding interest in veteran hitman Drogba personally in the absence of either a manager or director of football at the club – but his preference is to keep the long-serving star.

Turkish giants Galatasaray are interested in Drogba and will offer him a lucrative final pay-day, while Tottenham chief Harry Redknapp is also keen if the deal is right.

But the word from the top at Chelsea is that Drogba will be kept on Abramovich's orders – so the next coach will have to work out how the Ivorian and Fernando Torres can play together.

French star Anelka looks to be the dressing-room fall-guy for the club's failure to land a trophy in the past season and will be sold if the right bid comes in.

Anelka has had a successful spell at Chelsea, but his days as a first-choice striker are over. While he may be prepared to go, his wages will intimidate likely bidders.

Abramovich knows there are some big issues to be solved in his side's attack for next season following the record capture of Torres.

Chelsea hope to have a boss installed in the next 10 days – with Guus Hiddink the main target and Redknapp the alternative – and there is also the question of bids for Sergio Aguero and Brazilian Neymar to be put to bed.

England Under-21 ace Daniel Sturridge also needs to know where he stands, with Bolton already in talks about taking him back for a second spell on loan.

Source: Daily Mirror
How can there be any transfer speculation concerning Chelsea when owner Roman Abramovich has not even named a manager?
The Russian billionaire seems too distracted by attracting the biggest stars to his club he seems to have forgotten about the person who will have to slot the jigsaw pieces together.
If he wants to make all the decisions he should appoint himself as manager and be done with it.
Abramovich's next big dilemma is to determine which centre-forward, out of Didier Drogba and Nicolas Anelka, has a future at the club.
This is an important decision (and one that should not be taken without a manager) because if they get it wrong the repercussions could be dramatic.
Drogba has been the biggest fish at Chelsea ever since Jose Mourinho sunk his claws into the burly striker and turned him into a star.
The Ivorian was the main man at the Bridge but all that finished when Fernando Torres took over.
But ego is a precious thing and Drogba has one bigger than Abramovich's bank account.
He was not happy about the transfer and is unlikely to be too pleased about sticking around as Torres' back-up.
If he stays he could ruin the harmony in the Chelsea dressing room which is famous for the amount of 'personalities' they have. It certainly would not help the more introvert Torres.
But what of Anelka? The Frenchman has never been the main guy at Chelsea. He was always behind Drogba in the pecking order and seemed content with it.
Carlo Ancelotti also favoured playing Anelka with Torres, preferring his teamwork and abilty to dovetail with a partner to Drogba's more self-centred bloody mindedness.
But Anelka is no Drogba. The Ivorian could tear defences apart single-handedly while Anelka always needs service (including in his Arsenal prime).
So which to choose? Drogba, the more disruptive but better player, or Anelka, who is more likely to strike up a partnership with Torres?
Maybe it is time to get rid of both. With emphasis on reducing the wage bill and average age of the squad this could be the ideal moment.