Old Trafford will struggle to replace United icon.
Watching England v Switzerland?
at Fanatix.com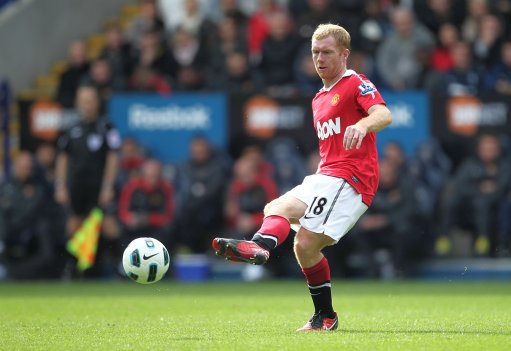 Yesterday came the day that Manchester United supporters had dreaded for years: the day that Paul Scholes announced his retirement. At the ripe old age of 36, the veteran midfielder has called time on a glittering career that has seen him collect 10 Premier League winners' medals, 3 FA Cups and 2 Champions League medals among others. His retirement is not just a loss to United fans however; but also to football fans, as Scholes has lit up pitches all over Europe for over 15 years, while also racking up 66 caps for England. His career has been lauded by the football community and also those who played with or against him. Xavi described him as the best centre midfielder of the last 20 years, while none other than Zinedine Zidane labeled him as "Undoubtedly the greatest midfielder of his generation". Never has the Premier League seen a player who distributes the ball as accurately as Scholes did, while he notched up over 100 Premier League goals during his time at Old Trafford- one of only four midfielders to achieve this feat (Frank Lampard, Matt Le Tissier and Ryan Giggs being the others). Such high praise from individuals who know good footballers when they see them is testament to the high calibre of footballer that Scholes was, and it is something that despite his media-shy personality, Scholes can be very proud of.
Scholes was a part of one of the greatest midfields in football history while at United. With Beckham, Keane and Giggs alongside him, they dominated the Premier League in the mid to late 90's, plundering trophy after trophy. It is a shame for Scholes that this success didn't resonate for him on the international stage, where despite winning a lot of caps and playing in major tournaments, his talents were not best exploited. His decision to retire prematurely from the international scene was greatly affected by Sven Goran-Eriksson's bizarre decision to play him on the left of a midfield diamond to accommodate Steven Gerrard and Lampard. Eriksson obviously recognized Scholes' qualities but by playing him out of position like this, he demonstrated shocking man management. This decision essentially indicated to Scholes that he wouldn't be a starting centre midfielder while Eriksson was in charge. The fact that Steve McClaren and Fabio Capello both tried to persuade Scholes to come back and play for England shows how highly other managers rated him. Still, the most important manager in Scholes career, Sir Alex Ferguson, could not have been happier with the decision. Ferguson was at United all throughout Scholes development at the club, from youth team player to key player all the way through to yesterday.
How Ferguson must have been dreading Scholes' retirement too. The fact that not one of the centre midfielders at United at the moment would have been fit to lace Scholes' boots in his prime further highlights the need for Ferguson to invest in a world-class centre midfielder this summer. How they will miss his pinpoint passing and his calmness and reassuring presence in the centre of the park. Though he has featured slightly less in recent years due to his age, the fact that Ferguson could call on a top class player like him to come off the bench is something that would have made the job easier. It is arguable that Scholes can't be replaced, as his unrelenting passion for United is something that you wouldn't find in nearly any potential replacement. He has been through the good times and the bad (though there weren't many) during his career at Old Trafford. He infamously missed the 1999 Champions League final through suspension, he missed a penalty in the FA Cup final penalty shoot out against Arsenal, and he had to miss half of the 2005-2006 campaign through a problem with his vision. Despite these setbacks his commitment and determination saw him play to a great standard throughout the rest of his career- he even won a Premier League Player of the Month award earlier this season. This love for the club and knowledge of what it means to wear the red shirt made him an obvious candidate to take on a coaching role, and Ferguson recognized this.
When people look back on Scholes' career, there is plenty to talk about. The trophies he won, the spectacular goals that he scored, the fact that after 17 years of playing Premier League football he never seemed to quite master the art of tackling. Countless hours will be spent on debates that there is no true answer to, like how he fared compared to the likes of Steven Gerrard and Patrick Vieira. One thing is for sure though- the game is poorer without him. Players like him are one in a million not only in talent, but also he was dedicated to one club his whole career despite the fact that in his prime he could have played for any side in the world, and avoided the media limelight at all costs. Football has lost a great player and a great professional. Let's hope for our sake that the next Paul Scholes is right around the corner.