Bernabeu legend claims the Old Trafford club would never have won the Champions League.
Watching England v Switzerland?
at Fanatix.com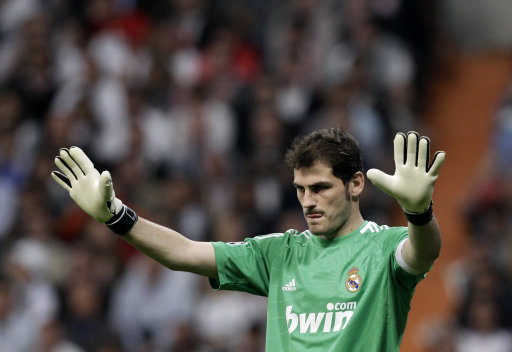 Real Madrid captain Iker Casillas has claimed his team would have beaten Manchester United in the Champions League final at Wembley.
The 30-year-old believes the real final was actually played in the semi-final when Madrid crossed swords with fierce rivals Barcelona.
The Spain goalkeeper says whoever won that game was always going to lift the trophy because they are the two strongest teams in the strongest league in Europe.
Casillas played his part in Madrid winning the Copa del Rey for the first time in 18 years but lost out to Barcelona in La Liga and the European Cup.
He says the plan next season is to knock Barca from the top but does admit to being jealous of all their success.
"I think the semi-final between Madrid and Barcelona was the champion of Europe," Casillas told AS. "The two best teams in Europe at that time facing each other.
"The top two teams are from Spain, a very positive thing for all Spanish. In the end it was the superiority of Barcelona against Manchester United.
"I believe one hundred percent, if Madrid had been on we also would have beaten Manchester.
"(I would love to have) put myself in the winning team, of course. When you see on TV, you always have some envy, but that's football, sometimes you win and others lose.
"I'm happy for people I've known for a long time because they deserve it. There is no problem.
"What I like is to see a good game and I think they saw one. They are two different teams, the champions of the Premier League and La Liga.
"Barcelona was the one who handled the ball, which took more chances and they scored more goals, which ultimately is what matters.
"I was envious of not being able to be there," he added. "Seeing the playing field is what makes me angry not whether they play well or badly.
"Many teams are playing well and lost. There are many examples. One recent in the last World Cup: Spain played great against Switzerland and lost. The important thing is to win. Barca have their fourth European Cup and that is what is left at the end.
"The aim (next year) is to overcome what we've done this season.
"If we improve the league position we would be first. If we do better than reach the semi-finals of the Champions League we would play in the final and match what we did in the Copa del Rey we would have improved on what he achieved this season.
"Anything beyond this season will be very good for everyone.