Controversial president gets four more years.
Watching England v Switzerland?
at Fanatix.com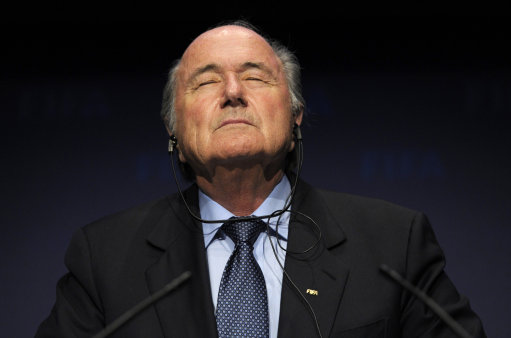 Fifa have elected Sepp Blatter to remain as president of the world governing body for four more years.
The 75-year-old received 186 out of 203 votes after he ran unopposed in a controversial election race.
The Fifa members had the option of choosing Blatter or abstaining after Mohamed bin Hammam pulled out amid allegations of bribery that rocked football.
The vote nearly did not happen after the Football Association tried to pass a motion to delay the election until a credible challenger could be found.
But the FA needed two thirds of the 207 members to agree but could only secure 17, with a further 17 abstaining.
Earlier Blatter vowed to learn from the 'public anger' that has arisen from the FIFA crisis.
"We have been hit and I personally have been slapped," he said. "We have made mistakes and we will learn from this.
"I can say to a certain extent that this is a good warning, not just to look into our problems, and I am willing to face the public anger in order to serve football.
"I am the captain weathering the storm. This is a difficult period for FIFA and I admit that readily. Not only is the pyramid shaking but our ship has drawn some water.
"We must do something because I do not want ever again that we face this undignified situation."