Legendary striker implicated in Italian investigation.
Watching England v Switzerland?
at Fanatix.com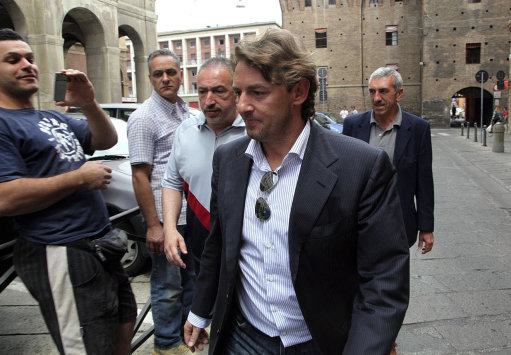 Giuseppe Signori, 43, who was one of Italy's leading strikers, leaves a police station in Bologna
Former Italy footballer Giuseppe Signori and 15 other people have been arrested by Italian police for alleged match-fixing.
The others held are said to include ex-Serie A players, current players from both Serie B and Serie C, club directors from lower leagues and betting shop employees.
They are accused of organising the rigging of matches to fix bets.
Eighteen matches are under investigation.
They include this season's Serie A clash between Inter Milan and Lecce, and matches involving Siena and Atalanta, who both earned promotion to Serie A.
Signori, 43, who is being held under house arrest, was one of Italy's leading strikers in the 1990s. He was top scorer in Serie A three times with Rome club Lazio. (BBC Sport)
The arrest of such a household name as Giuseppe Signori is shocking to say the least and whilst clearly Italian football has been plagued by corruption for as long as one can remember it is surprising to see such a notable figure linked with such a seemingly widespread scandal.
Fellow former Italian international Stefano Bettarini and Mauro Bressan have also been arrested as part of an investigation that has apparently been delving deep into the betting markets related to Italian football for quite some time.