Dodgy as hell.
Watching England v Switzerland?
at Fanatix.com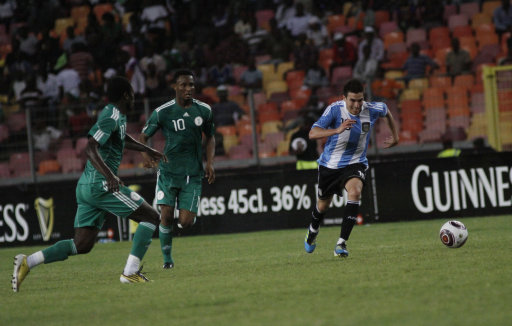 Fifa says it is investigating unusual betting patterns relating to Nigeria's 4-1 win over Argentina in Abuja on Wednesday.
When the score was 4-0 in the friendly game, a large number of bets were placed on there being a fifth goal.
Only five minutes of injury time were shown, but eight had elapsed when Mauro Boselli scored a contentious penalty given against Joseph Yobo for handball.
Fifa said in a statement: "This match was one we had an active interest in."
Ike Uche opened the scoring after 10 minutes, with Victor Obinna adding a second from the penalty spot before Uche headed a third before half-time.
Eight minutes after the restart Emmanuel Emenike lobbed a fourth goal, and the fifth goal of the match, refereed by Ibrahim Chaibou of Niger, came with the final kick of the game.
The match took place the same day Fifa president Sepp Blatter was re-elected for a fourth term in office, pledging to improve the image of the game around the world. (BBC Sport)
This does sound very fishy doesn't it? It seems very clear that something very odd was happening in the match and if you watch the highlights below you can see that the Nigerian players are not too bothered about the awarding of an injury time penalty for a handball that clearly didn't occur, in fact they are laughing at the decision.
Wonder what FIFA's punishment will be? Bet it's a fine that then goes into the FIFA coffers. If any player is found guilty of match fixing, or indeed the referee, then they should be banned from the game for life.