Eastlands man readies a number of excuses to leave City.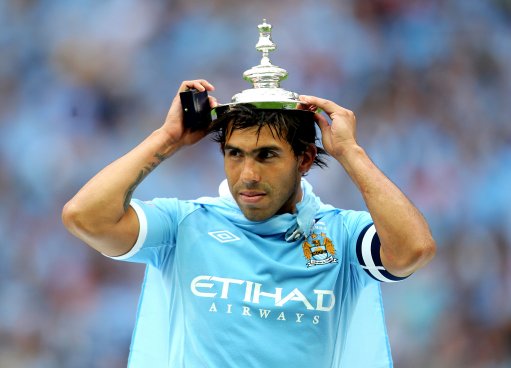 Carlos Tevez has launched a vitriolic attack on Manchester – and admitted that he can't wait to quit the city.
The Argentine striker, who became the star of the iconic 'Welcome to Manchester' poster when he quit United for City two years ago, has risked alienating fans of both clubs by claiming their city has "nothing".
He has hinted recently that he wants to stay – but his comments on an Argentine talk show will not go down well with Mancunians proud of their city's heritage and ­culture.
Tevez was being interviewed by Susana Gimenez – ­Argentina's equivalent of Oprah Winfrey – when he was informed that South American model Evangelina Anderson has just bought a villa in ­Marbella.
His response was: "Yes but Marbella is different from Manchester. You can buy a holiday house in Marbella, but I'm never going back to ­Manchester, not even on ­holiday, not for anything.
"Of course I would buy a house in Marbella.
"The weather, everything. Manchester has nothing.
"For example in Marbella you can buy a house by the beach, relax there and later you can go there on holiday and everything.
'I'm never going back to Manchester' says Tevez in astonishing attack on the city
"But a house in Manchester? On top of that a house in ­Manchester costs six or seven million pounds. Pounds!
"It's better to rent and that's that."
Susana said "It's very ­expensive there" and Tevez replied: "It's another world."
Tevez added: "I don't have any new friends in ­Manchester. I am always with my family and lifelong friends. I don't even leave my house. I'm the stay-at-home type.
"When I have my dad and friends over we have a ­barbecue, we have fun. But I'm always on my own, ­especially in the last few months. I was with friends, but I've found the past few months very hard."
On Friday, Tevez's agent Kia Joorabchian insisted that Tevez could stay with the Blues.
Joorabchian said: "I think it all boils down to his family. If they feel comfortable about moving to Manchester then there's every chance he will stay at Manchester." (Daily Mirror)
Oh dear, this doesn't bode well for Roberto Mancini, but on the plus side the Man City boss has another dozen or so strikers at his disposal. On a serious note these types of attacks from Carlos will not win any fans among the Eastlands support who have probably gotten tired of his flip-flopping on the issue of whether he wants to stay at the club.
In many ways Mancini would be best off offloading the Argentine and looking for a top rate replacement for the former Boca Juniors, West Ham and Man United man. The jury is still out on Edin Dzeko and Mario Balotelli, though much improved, is still not in the same league in terms of consistency as Tevez.
In relation to the comments Tevez makes, it is a little hard to feel too sorry for a multi millionaire moaning about the weather in Manchester. There is not much the club can do about the incessant rain and as for the city not having a beach, again there is only so far the club's mega rich owners can pay for.
Expect some photo-shopped 'Goodbye to Manchester' advertising hoardings to go up any day now.