Anfield needs a winger, but who should they buy?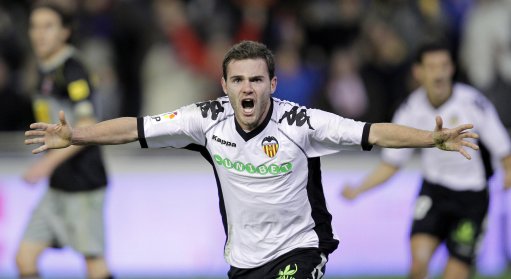 Much has and will be asked about what kind of winger would suit Liverpool – as it is no secret that they not only need atleast one winger this Summer, but they are in the market for a wide player. There is much debate among the Liverpool faithful as to who is the man to provide width and most importantly, provide much needed service for Andy Carroll.
Ashley Young and Stewart Downing have been two regular names mentioned in the same sentence as Liverpool, and both cause much of a divide among the Anfield faithful. Many think Ashley Young's pace, skill and ability to grab goals is what Liverpool need, but personally I don't think he's the answer as he cuts in too much for my liking and I fail to see how this would solve a width problem, not to mention his inability to consistently cross with quality. Stewart Downing would be my preferred option of the two – a conventional winger who gets chalk on his boots and can put in the type of crosses that Andy Carroll would put into the back of the net. He would provide balance in the team, he can score and he is a very tidy player. He can also play on the right and cut in which makes him a versatile player.
As much as I like Downing – he wouldn't be my first-choice either. A name has popped up in recent weeks and it is a name which has excited Liverpool fans more than most. That man is Juan Mata. The very name mentioned in the same sentence as Liverpool excites the LFC fans and no wonder. First of all, Juan Mata would be a perfect fit on the left of Dalglish's 4-3-3 system and would surely shine under Dalglish's pass and move style of football. Secondly, he has all of the attributes required to become a top class winger. He has pace, he is creative, he is skillful, he loves to beat defenders, his finishing is impressive (he started his career as a striker), his movement is top drawer and he can certainly cross a ball. This is exactly the type of wide player Liverpool out to be looking for. It is worth mentioning that he can cut in – which means he isn't totally predictable.
Mata can also play in the hole behind the striker and on the right and this versatility means he'd be perfect in Dalglish's system. We've seen front players such as Suarez, Kuyt and Maxi given the freedom to roam and interchange which has caused opposition defences so much trouble this season and proven to be an effective tool against top teams such as Man Utd, Man City and Chelsea and Mata would provide the missing link in Liverpool's attack and would surely build up a strong rapport with the likes of Kuyt, Suarez and Carroll. The freedom to interchange would cause defences so many problems and of all the wide players we've seen associated with Liverpool – Mata would be the perfect option.
One of the most important things about Mata and something rarely mentioned about him, or any footballer for that matter, is that he isn't motovated or swayed by money. In previous years he has turned down big money transfers to the likes of Inter Milan, Real Madrid and Barcelona as he got no assurances of playing regular first-team football, even though he also likely got offered a very chunky salary. It is also worth noting that he is argueably the best player in the Valencia squad, yet far from the highest paid player. Many people admire his attitude and admire that he is motovated by playing and not my money. What more could a manager want in any player.
This is a possible deal for Liverpool, with Valencia's financial troubles and willingness to sell, Mata is a very realistic and attainable option. Spanish journalists have suggest he'd be available for €18-22m (£16-19.5m) and considering this may be the going rate for inferior players such as Young and Downing, Liverpool would be crazy not to opt for the Spaniard. Reports have suggested that Liverpool may miss out on Young to fierce rivals Man Utd, and Stewart Downing as Aston Villa are reluctant to sell, but with a talented Spaniard potentially on the books, trust me – it doesn't Mata!!!