White Hart Lane unhappy with England boss.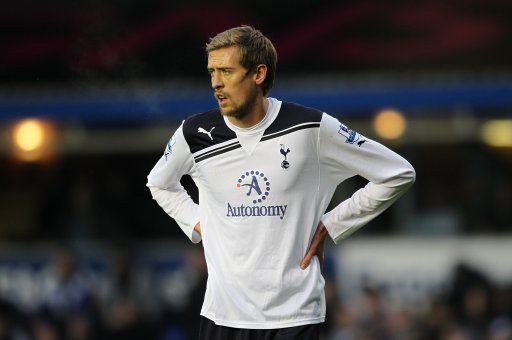 Peter Crouch will not play for England again under Fabio Capello after being axed from the Euro 2012 qualifier against Switzerland hours before kick-off at Wembley.
The Tottenham striker was left feeling humiliated after Capello selected Darren Bent as his lone striker, with Fulham's Bobby Zamora on the bench.
Crouch was at Wembley and wore his England blazer but it is the final straw for the 6ft 7in striker.
A close friend of Crouch said: 'That is the last time he [Crouch] plays for Fabio Capello. It is almost a deliberate humiliation.'
But he has felt increasingly marginalised by Capello despite turning up for England squads even when left unused.
Now the player has had enough and while he will not close the door when a new manager succeeds Capello, he is the latest player to decide he does not want to work with the Italian.
Crouch's friend, who revealed the player's disillusion with Capello, added: 'Peter has always been loyal to England, regardless of the importance of the game.
'He's got a fiancée and baby daughter. He could have been on holiday with them but wanted to be part of things, unlike some other players. And once again he has been treated badly.' (Daily Mail)
I do have some sympathy with Peter Crouch on this one because the Tottenham striker does have a remarkable strike rate when it comes to England national team duties but perhaps quitting was not the answer. Whilst it's true that the giant White Hart Lane striker has had a poor Premier League season he did do very well in the Champions League and clearly national team football is more akin to the continental game.
Quite how Bobby Zamora got the nod ahead of the Tottenham man, especially as the Fulham man has spent a huge chunk of last term out injured, is hard to fathom.
Crouch's record of 22 goals from 42 appearances is not to be sniffed at and given the lack of many options up front beyond the likes of Wayne Rooney and Darren Bent, his absence could well have a negative effect on the remaining qualifiers.