Emirates Stadium star admits he may not sign new contract and openly courted Old Trafford interest.
Vote Now in the 2010/11 COS Awards: Make Your Voice Heard!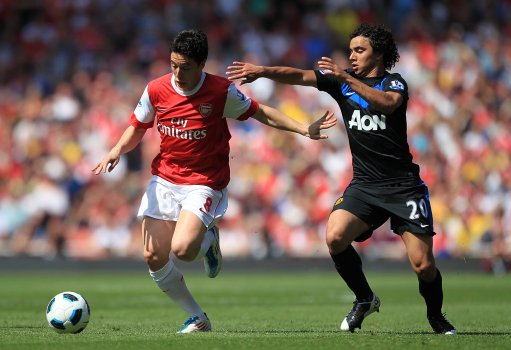 Samir Nasri has cast more doubt over his Arsenal future by admitting he may not sign a new contract.
The 23-year-old midfielder, who is entering the final year of his current deal, has also refused to rule out a move to Manchester United.
Speaking to French sports programme Telefoot, Nasri said: "I don't know if I will sign a new contract, the discussions are ongoing.
"Do I want to go to United? First, we should see if it's real and concrete." (BBC Sport)
This is not good news for Arsene Wenger. For French international Samir Nasri to so openly court interest from Man United is basically inviting a bid for his services, a bid that Sir Alex Ferguson appears more than happy to make, not least because the former Marseille man has just a year left on his Gunners deal, meaning his value on the transfer market is significantly reduced.
Wenger already has his work cut out trying to keep captain Cesc Fabregas at the club and is having a major headache trying to tie left back Gael Clichy to a new deal and appears to have an unhappy player in Andrei Arshavin to boot.
Clearly such issues with top performers were always going to arise after a sixth successive season without any tangible success. Wenger's assertion a couple of months ago that 'finishing second to Man United would be no disaster' may well have backfired. The statement not only proved inaccurate, the North London side finishing fourth, but also angered supporters and probably sent out a very defeatist message to his charges.
Nasri was undoubtedly Arsenal's most consistent performer last term and without the pint sized winger's 15 goals and countless assists Wenger may have found his side finishing outside the Champions League qualification picture all together.
Ferguson is reportedly looking to add more creativity to a midfield that has plenty of hard working individuals, like Darren Fletcher, Anderson, Michael Carrick, but perhaps lacks a goalscoring force. Indeed should the Man United boss be interested in Nasri, he would probably ideally see him as an attacking midfielder, as opposed to a winger, a role that the 23 year old is more than comfortable playing in.