Bernabeu star does not rule out move back to Anfield.
Vote Now in the 2010/11 COS Awards: Make Your Voice Heard!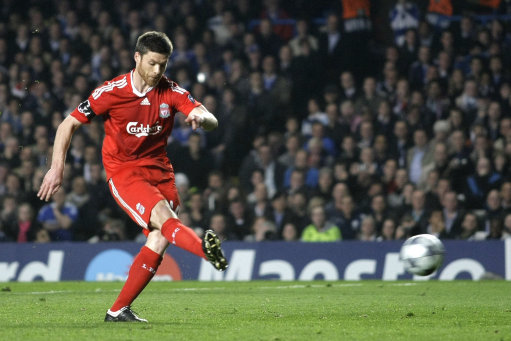 Real Madrid midfielder Xabi Alonso has spoken of his desire to return to Liverpool and about how he misses playing in front of the iconic Kop.
The 29-year-old spent five years with the Reds before departing to Madrid for £30million in 2009 after winning the Champions League and FA Cup.
The move transpired after Rafael Benitez had guided Liverpool to their best ever finish in Premier League of second but he had attempted to sign Gareth Barry from Aston Villa.
The public pursuit of the England man left Alonso feeling isolated and disillusioned with the club but now admits it was a wrench to leave Anfield.
"It was difficult because Liverpool has been and always will be very special," said Alonso. "It is in my heart because I have lived very intense things there.
"It was really difficult to tell the fans what my decision was, but sometimes you have to follow your feelings and that was my feeling at that moment.
"The fans always made it very clear what they wanted and the support I had from the first day I arrived to the last day was absolutely top and I can't have any complaints about that. But it was my decision and my feeling."
"It was quite a long summer with so many meetings, so many talks and so many rumours.
"I would have preferred to say goodbye properly, like so many other teammates had already done, but because of the circumstances it didn't happen."
"I miss lots of things. I miss the lads, I miss the atmosphere at Melwood – it was a great place to work, and the scenario of Anfield is unbeatable.
"The special nights I have been privileged enough to live, those will be in my memory forever and they are difficult to compare anywhere in the world.
"Since I arrived I have known so many big, big legends as Kenny, Hansen, Souness, Fowler, Stevie, Carra – these will be forever.
"Sami Hyypia as well, for me he was a big example and someone I learned a lot from. I don't think I belong there but if I am a step below them I am happy to be there."
Vote Now in the 2010/11 COS Awards: Make Your Voice Heard!