Eastlands star could be priced out of moves to the Bernabeu and San Siro.
Manchester City Premier League Fixtures 2011/12
Vote Now in the 2010/11 COS Awards: Make Your Voice Heard!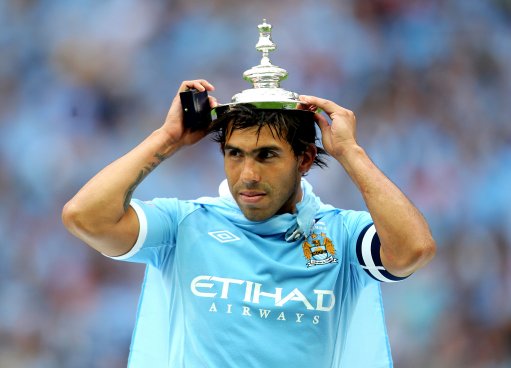 It will cost Real Madrid or Inter Milan £100million to prize Manchester City captain Carlos Tevez away from Eastlands this summer.
The staggering fee is made by combining transfer fees and wages to help Tevez dreams of leaving England to be closer to his family.
But City will not sell their talisman for a penny less than £50million but have privately admitted they will not be able to hang onto him according to the Daily Mirror.
The Blues feel that is the going rate for a world-class striker such as Tevez, after Chelsea splashed out that much to buy Liverpool's Fernando Torres in January.
Tevez, 27, is an even hotter property than Torres as he has been the Premier League's top scorer over the last two seasons, bagging 43 goals in 66 appearances.
The City board feel they are in a position of strength with the Argentina international still tied to his contract for another three years.
Tevez is understood to be paid around £250,000-a-week at Eastlands, which would set back any prospective buyer a cool £48million over the length of a four-year contract.
Vote Now in the 2010/11 COS Awards: Make Your Voice Heard!