Take notes Harry, this may be helpful.
Vote Now in the 2010/11 COS Awards: Make Your Voice Heard!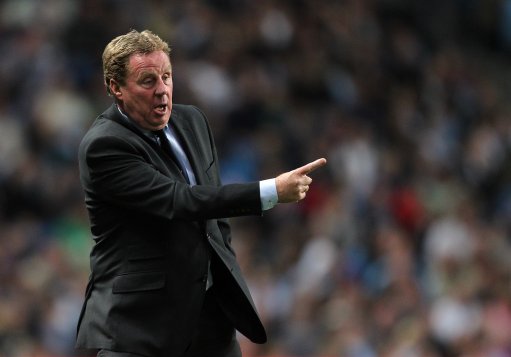 Keep hold of Gareth Bale and Luka Modric
A point more obvious than a chat-up line involving the words 'come', 'here' and 'often', but retaining the services of the Welshman and his Croatian teammate is imperative if Spurs are to qualify for the Champions League next season. Despite enduring an injury-ridden second half of the season, Bale finished as Spurs' third top scorer, whilst Modric was responsible for the most key passes made by any player in the team.
Should either player depart during the summer transfer window, the ramifications would go beyond the loss of the team's best winger and creator-in-chief. As Harry Redknapp has mentioned on a number of occasions, the sale of top players sends a message to both current squad members and transfer targets. Unfortunately, that message starts with a painful introduction. 'Welcome to Thursday night Europa League football on Channel 5'….
Find a striker that can score goals and possesses the pace, strength and aerial prowess to play with Rafael Van der Vaart…erm…
Van der Vaart scored 13 goals last season (whilst chipping in with more assists than any of his teammates). In contrast, Tottenham's three recognised strikers found the net 17 times between them. Despite Jermaine Defoe's adolescent whining, the prospect of the Dutch international playing with such impotent poachers next season seems remote.
Redknapp's forays in the January transfer market (remember the aborted attempt to sign almost any striker that played in Spain?), appear to confirm this. Yet, Van der Vaart's form (and lack of tactical flexibility) means that it's not a case of simply finding a goalscorer. Whoever arrives to play up front next season will be playing as a lone striker just ahead of the Dutchman, as part of Redknapp's favoured 4-4-1-1 formation. This role requires aerial ability (think back to the contribution Crouch made to many of van der Vaart's goals), strength, pace and a goal scorer's instinct (if last season's struggles are not to be repeated). In short, Rafa's brilliance presents a £20 million problem….
Heurelho Gomes is compelling, captivating…and a car crash waiting to happen. Buy a new goalkeeper.(Issue resolved with signing of Brad Friedel)
You've just saved a penalty that could open the door for your team to make a last-ditch push for the Champions League. How do you react? Turn to the crowd and deliver an understated, David Seaman-esque pump of the fist? Do your best Peter Schmeichel impersonation by pushing delighted teammates away and manically waving your defence up-field? Or flap (twice) at the resulting corner, before hauling down a member of the opposition in order to repeat the experience (minus the save)?
Heurelho Gomes' performance in the recent home fixture against Blackpool should spell the end of his tenure as Tottenham's first choice keeper. The encounter with Ian Holloway's men (which saw Gomes plunging to his left to save Charlie Adam's spot-kick, before hauling Gary Taylor-Fletcher to the ground less than a minute later), came hot on the heels of matches against Real Madrid and Chelsea. Across both games, which went some way to defining Tottenham's season, the Brazilian was solely at fault for at least three goals. In meaningful matches, Gomes has become a costly liability.
Invest time in Aaron Lennon (unless Ashley Young is available of course…)
Spurs and Arsenal have more in common than either club would care to admit. The presence of a sporadically brilliant, infuriatingly inconsistent right winger is chief among the similarities.
Aaron Lennon endured a difficult 2010/11 season. Unfairly (given the evidence available) lambasted for withdrawing from the team just before kick-off in the first leg of the Champions League quarter final, his relationship with both manager and fans has become strained. A failure to deliver telling crosses and score goals (Lennon found the back of the net on only three occasions last season), is frequently cited as a legitimate cause for complaint.
Yet this is a player who last season made as many key passes as Luka Modric and provides the team's single source of pace in the absence of Gareth Bale. Surely Redknapp, Joe Jordan and the rest of the coaching staff should be investing time in improving his crossing on the run, ability to cut inside and shooting?
If Ashley Young is snapped up by Liverpool or Manchester United, the answer is undoubtedly yes. But if there is a chance that the combined promise of a guaranteed first team place and European football (even if it is played on a Thursday night), could tempt Young to London, it maybe time to cash in on Lennon. Young's record last season (seven goals and ten assists, more than any Spurs player), is mightily impressive. His delivery from set-pieces and open play could prove to be the source of ammunition Tottenham so dearly miss in Bale's absence.
Show a ruthless instinct when playing 'lesser' teams
Spurs gained six points out of a possible 18 from their clashes with last season's relegated teams (Birmingham, Blackpool and West Ham). The cost of this lacklustre performance is starkly illustrated by the six point difference between fourth and fifth place in the final league table. Home victories against Blackpool and West Ham (coupled with one away win from the trips to Bloomfield Road and Upton Park) would have been sufficient to secure a Champions League qualifying spot for Tottenham.
William Gallas hinted at a possible answer to this ineptitude in dealing with matches against less talented teams, when he made reference to the team 'maybe thinking we had won before we played'. This could be interpreted as a criticism of the starting eleven, but could it also be indicative of a failing on Redknapp's behalf?
Spurs' first half capitulations against Young Boys and Fulham in the FA Cup (together with their results against the bottom three), hint at a casual attitude to 'smaller' games that may permeate from the manager. A mentality of this kind is certainly reversible (witness the turnaround in Spurs' approach towards games against the big four). Yet Redknapp would be wise to install ruthlessness in his team quickly: Arsenal's fortunes over the last two months provide a study in what can happen if a psychological rot is not stopped.
If you want to read more from John then visit his blog at http://lifeafterthelane.wordpress.com/