White Hart Lane boss eyes Stamford Bridge and Upton Park stars.
Vote Now in the 2010/11 COS Awards: Make Your Voice Heard!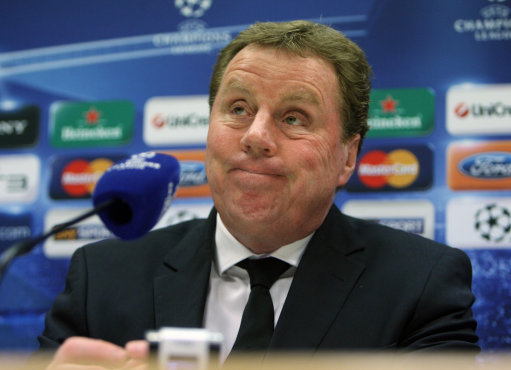 Tottenham Hotspur manager Harry Redknapp is hoping chairman Daniel Levy will bankroll him to sign three top players that will get Spurs back into the Champions League.
Redknapp has admitted he was one of the unlucky clubs who missed out on Blackburn Rovers defender Phil Jones but has quickly set his sights on securing other targets.
Chelsea striker Didier Drogba, West Ham United's Scott Parker and Internacional's Leandro Damiao are all on his wish list but only if the price is right.
Other targets are thought to include Manchester City's Emmanuel Adebayor, while Redknapp is currently rivalling Arsenal and Liverpool for Lille winger-cum-striker Gervinho, according to the Daily Mirror.
The Spurs boss has now challenged Levy to spend the money needed to get the club back into the Champions League.
"I want Daniel to go out and get three fantastic players," Redknapp said. "You can't say that, just because we didn't make the Champions League, we're not going to improve next year.
"If you do that, then we're not going to get in it again. That's a fact, because you won't pass the teams that finished above you last year. If we don't improve then they will improve.
"Manchester United, Chelsea, Arsenal – they will improve, and Man City… they're unbelievable.
"They are never going to stop improving as will Kenny with Liverpool now. You have to keep improving if you want to keep anywhere near those teams.
"I certainly feel we need three players of real quality if we are going to compete with those teams otherwise it will be very difficult."