Old Trafford legend will go head-to-head with Fergie at testimonial.
Vote Now in the 2010/11 COS Awards: Make Your Voice Heard!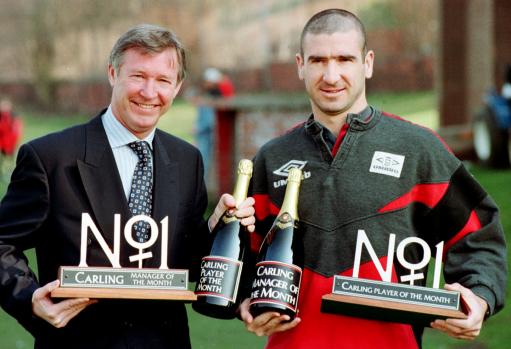 Manchester United legend Eric Cantona will return to Old Trafford on August 5 to be part of Paul Scholes' testimonial.
The Frenchman will coach New York Cosmos, who are currently bidding to gain admittance to Major League Soccer, for the match after becoming director of football for the franchise.
Cantona, who hit 64 goals in 144 games during a five-year spell with United, is regarded as one of the most significant figures in the club's entire history, proving to be the catalyst for United's emergence as the dominant side of the Premier League era.
The former Leeds striker won the Premier League and FA Cup double on two occasions before quitting football in 1997.
"I wish to congratulate Paul for such an incredible career at Manchester United and I am looking forward to returning to Old Trafford in my new role with the New York Cosmos," said Cantona.
Scholes will become part of the coaching staff at United after winning 10 league titles during his distinguished playing career.
"This is going to be a big night for me and my family but one which I intend to enjoy and I will savour every moment," said Scholes.
"I have spent my whole footballing life at Manchester United, so this will be an emotional farewell. This club is special in many ways but the fans are the best and I have always appreciated their support throughout my career.
"I hope they enjoy the night, especially seeing the Boss and Eric battling it out in front of the dug outs."
Ferguson had nothing but praise for a player he has helped grow into one of the legends of the modern game.
"Paul's retirement was typical of the man, low key, he was safe on holiday just so he could avoid any media interviews," said Ferguson.
"However he won't be able to hide away this time and it will be fantastic for the fans to be able to bid farewell to this exceptional footballer.
"The accolades he's received have been well deserved but for me Paul is one of those players who turns up, plays his football and it is that natural ability that makes Paul unique and revered by many, including myself.
"Now from one great player to another, Eric Cantona. I am going to relish this touchline showdown, one Gaelic mind to another. Neither of us will want to lose this one, it is sure to be a great night and a well deserved recognition for Paul."