Old Trafford star forced to fight his demons apparently.
Vote Now in the 2010/11 COS Awards: Make Your Voice Heard!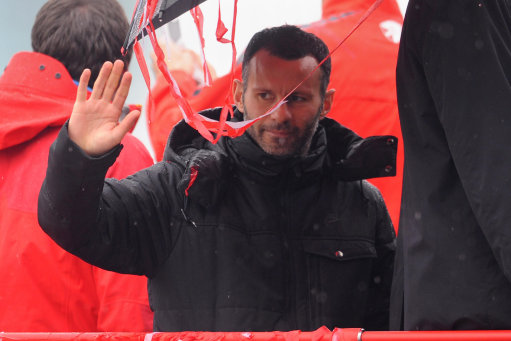 RYAN Giggs has told wife Stacey he will seek professional help for sex addiction in a bid to save their marriage.
The shamed Man Utd star, 37, offered to go into rehab in a bid to rebuild his shattered family life.
And The Sun can reveal that betrayed Stacey, 32, has agreed to try to save their relationship.
Stacey decided to stick by Giggs after he made a string of promises and said he "couldn't carry on" if she left him.
Giggs' Mr Clean reputation is in tatters over his sordid eight-year affair with sister-in-law Natasha and fling with Big Brother babe Imogen Thomas.
Stacey, who has two children by him, told a close friend: "Ryan has an illness and he needs my help. As long as he does what he has promised our marriage will survive.
"He never loved Imogen and Natasha is a liar. Our family will come through this."
Yesterday we revealed dad-of-two Giggs had offered Rhodri £250,000 for his silence.
Rhodri, 34, is now using Giggs' solicitors Schillings, who cost the star a fortune with their overturned super-injunction and advice to sue social networking empire Twitter.
SOURCE: The Sun
Now clearly this is not the most reliable source for any news whatsoever but any story that revolves around "A close friend" clearly has to be taken with a large amount of salt. That said, there's no smoke without fire (except when it comes from a dry ice machine) and clearly there may well be some truth to some of these rumours and there will probably another revelation or two before this story is put to bed.
Also, any idea how this kind of sex 'therapy' would work? Will Ryan Giggs be shown a picture of his wife with a sign that say's "Yes", and then a picture of x amount of women and a sign that says "No"? I always thought that the idea of 'sex addiction' was really just a way to justify someone's choice to have extra marital affairs and then simply trying to imply that it was not a mess of their own making and that they do actually have a treatable condition.
Hell, what do we know. What are your thoughts on the issue of 'sex addiction' or indeed this story in particular? Let us know in the comment section below.