Sir Alex Ferguson hopes to lure Dutch International to Old Trafford.
Vote Now in the 2010/11 COS Awards: Make Your Voice Heard!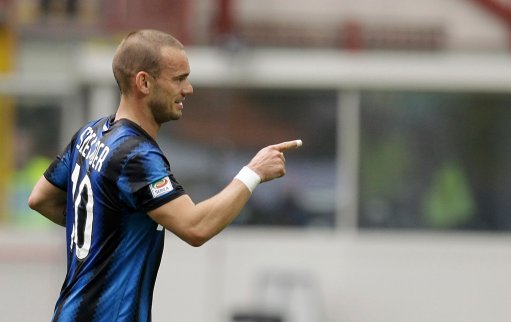 Manchester United are reportedly ready to offer winger Nani in part exchange for Inter Milan playmaker Wesley Sneijder. Old Trafford boss Sir Alex Ferguson is still intent on making a move for the Dutch international even though he has stated he is happy to remain at the San Siro.
Nani had a hugely successful season individually last term, netting nine goals and topping the Premier League assist league but the Portuguese international still found himself out of the first team for large chunks of the second half of the season.
Ferguson is now willing to offer the 24 year old as well as £20m in cash in the hope that such a proposal would entice Leonardo into selling Sneijder. The Brazilian boss is said to be an admirer of Nani and may feel that such an offer would be worth considering.
A previous sticking point in a potential deal to sign Sneijder had been his demands for £175k a week but apparently Ferguson has the sign off from the Man United board for just such an offer and a lot now depends on whether the former Ajax and Real Madrid man is tempted by a move to the Premier League champions.
In Sneijder's first season at Inter Milan he helped the Nerazzurri to a treble triumph, capturing the Serie A, Coppa Italia and Champions League crowns, however his second term at the club was marred by a disastrous, but brief, Rafa Benitez reign.
AC Milan took the domestic title from their arch rivals and Leonardo was unable to prevent Inter from crashing out of the Champions League when the Italian giants were thrashed 7-3 on aggregate by Schalke in the Quarter Finals.
Ferguson is looking for a midfielder to replace veteran Paul Scholes who retired this summer after 17 seasons in the Old Trafford first team.