Emirates Stadium boss closes in on Lille hotshot.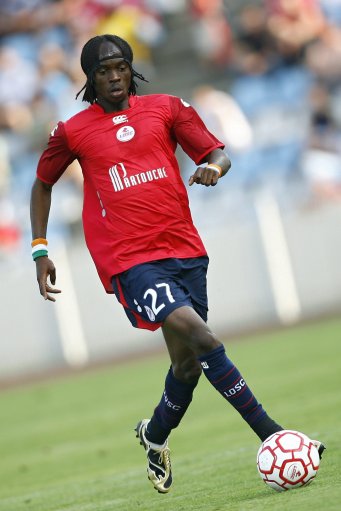 Lille have confirmed that they are set to hold talks with Arsenal over Gervinho.
The French champions revealed earlier this week that they would refuse to sell the Ivorian star to another Ligue 1 club, ruling out a move to Paris St Germain, who had made contact.
But England has always been Gervinho's preferred destination and Arsenal have long been favourites to land him ahead of the likes of Newcastle, Manchester City, Liverpool and Tottenham.
Lille's general manager Frederic Paquet has now confirmed they are set to hold talks with Arsenal, who have made contact.
"He actually wants to go," Paquet admitted to RMC.
"We have developed contacts with Arsenal. We will soon discuss with them to see what they want.
"He expressed his desire to leave for England so we'll see what will happen.
"Gervinho chose to leave for England, so that limits the scope of the situation.
"We will meet soon with Arsenal, see what they offer – but he is a player of value."
SOURCE: Sky Sports
By all accounts Lille expect at least £15m for Ivory Coast international Gervinho, this comes after Tottenham reportedly had a £10.6m offer turned down by the Ligue 1 champions. Whilst the fee is somewhat more than Arsene Wenger is known for forking out, it is a fair price in today's crazy transfer market. After all, Man United and Liverpool both paid more for two youngsters with very little in the way of experience.
Gervinho has had two solid seasons at the Stade Lille-Metropole, netting 15 and 13 respectively in his last two Ligue 1 seasons and remember the French league is notoriously defensively orientated and therefore those numbers are not to be sneezed at.
Having sold Yohan Cabaye to Newcastle United, Rudi Garcia faces a fight to keep the talents that helped Lille to their first domestic title in over 50 years with hot prospect Eden Hazard seemingly also likely to leave the club this summer.
Whilst Arsenal supporters may have wanted to see Wenger spend big money on experienced established stars they also know that is not the way the Emirates Stadium boss does business. The Frenchman is adept at taking rough diamonds and polishing them into gems and Gervinho may be set for similar treatment to Emmanuel Adebayor, a player understandably despised by Gunners fans, who has however gone from strength to strength, albeit now stuck on the Man City bench waiting for a big break.
Arsenal could do with some attacking additions as far too much is placed on Robin Van Persie's injury prone shoulders (although I mean he is injury prone and not his shoulders). Marouane Chamakh started well when he arrived last summer but the Moroccan went severely off the boil from November onwards. Nicklas Bendtner and Carlos Vela still only look like decent cameo performers and not first team regulars.