Emirates hero dismisses speculation of move to the Nou Camp – for now.
Vote Now in the 2010/11 COS Awards: Make Your Voice Heard!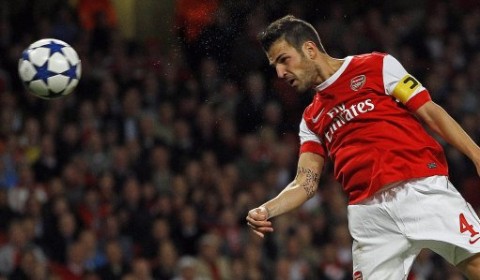 Arsenal captain Cesc Fabregas insists he is very happy at the club and is not looking for a move to Barcelona.
The 24-year-old has been constantly linked the Nou Camp side for the last 12 months but the Gunners have been able to keep hold of the midfielder.
The La Liga and Champions League winners even has a £35million bid rejected last summer as it did not reach Arsenal's £50million valuation.
Barcelona are desperate to bring the Spain international back to Catalonia where he grew up in the youth academy before leaving for Arsenal in 2003.
Spanish media have claimed negotiations are ongoing between the clubs with Sport saying talks have reached a 'decisive phase'.
Arsenal manager Arsene Wenger has maintained his stance of wanting to keep Fabregas and the playmaker says he is not planning on leaving North London quite yet but the lack of silverware is a concern.
"If sometime I have to move from Arsenal I will say so when it happens, without disrespecting the club that has given me so much, but right now I'm an Arsenal player and I'm very happy there," Fabregas said told press in Madrid.
"I'm very happy to be where I am, otherwise it would mislead people and lead to speculation.
"Yes, I'm frustrated at not winning titles, I've always wanted to win and not winning always hurts more when you've given so much.
"However, I am captain of Arsenal, I am a Gunner and it is there that I have become a player and that I have matured as a person."