Stamford Bridge side keen on White Hart Lane playmaker.
Vote Now in the 2010/11 COS Awards: Make Your Voice Heard!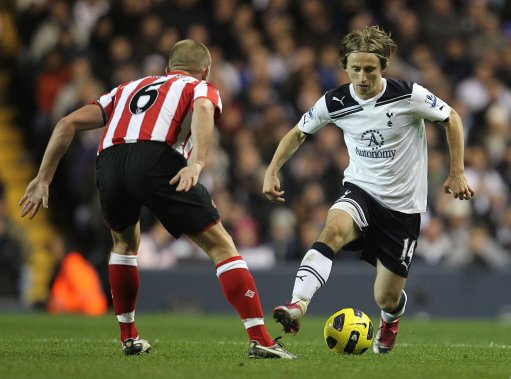 Tottenham midfielder Luka Modric would command a transfer fee of more than £22m, according to his agent.
Chelsea have reportedly bid that figure for the 25-year-old Croat and had it rejected by their London rivals.
"Luka is happy at Spurs but if an offer came in that was acceptable to the club and player, we would be willing to discuss it," said agent Nikky Vukan.
"In my opinion, £22m is a valuation that is too low for the player."
SOURCE: BBC Sport
Hands up if you hate player's agents? Wow, that's a sea of hands. Harry Redknapp will not be happy with Luka Modric's agent getting involved in matters that should not concern him. By stating that a club's reported bid was not substantial enough and then asserting that their client 'in theory' would not be against a move, Nikky Vukan is sticking his nose in where it is not wanted.
Redknapp has made it clear he has no intention of selling any of his top performers and the Tottenham boss is steadfastly refusing to listen to offers for Modric, Gareth Bale, Rafael Van der Vaart and Brazilian youngster Sandro. However if a player's agent gets involved in this manner it does in effect undermine the North London club in their attempts to prevent player sales.
Chelsea owner Roman Abramovich is looking to flex his financial muscles this summer and whomever he has in mind to take over from Carlo Ancelotti, sure to be Guus Hiddink and a younger partner, he will surely look to bankroll significant additions to help bridge the gap to champions Manchester United.
Modric has had an excellent couple of seasons at White Hart Lane and seems very happy to stay at the club and therefore statements such as this from his agent do not help matters. If asked about the reported interest in his client from Chelsea Mr. Vukan should simply have replied "This is not a matter for me to discuss, but Luka is very happy at Tottenham".