Old Trafford new boy needs to take a big step up.
Vote Now in the 2010/11 COS Awards: Make Your Voice Heard!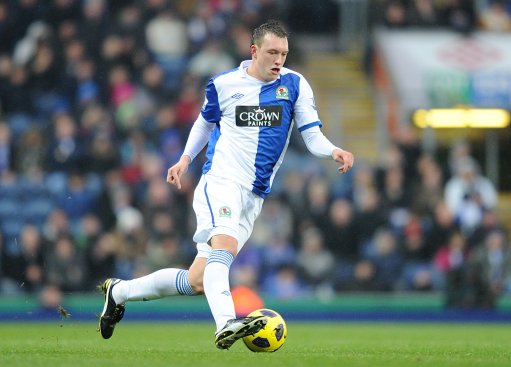 Manchester United's latest signing Phil Jones has been warned playing for the Red Devils is a huge step up and he will have to prove himself.
The 19-year-old, currently representing England U21 at the European Championships in Denmark, signed for United in a £16.5million deal from Blackburn Rovers.
Up to six clubs were bidding for his signature, including Arsenal, Liverpool and Tottenham Hotspur, but he chose Sir Alex Ferguson's side to carry on his learning of the game.
Old Trafford legend, Gary Pallister, who played at centre-back for nine years and made 317 appearances for the Red Devils knows all about the pressures of playing for the champions.
He says, exclusively to Caughtoffside, Jones has the talent to become a star at United but needs to handle the pressure of playing for a top club.
Pallister also believes the teenager and Chris Smalling could become the future of the club but may need to bide their time.
"Well he looks accomplished," Pallister said. "He is only a young lad. He's probably only had one season in the top flight but he's made people sit up and take notice.
"There has been a host of top clubs after him so that tells you all the scouts at the major clubs think he is a good'un. And you can see why. He has all the attributes you need to be a top class defender and he's going on to the next stage of his career.
"It's a huge step up to go from Blackburn to Manchester United. He seems a good lad with a terrific talent and he has some pretty huge boots to walk into and has Rio and Vidic to dislodge. But he is the future of Manchester United.
"They (Jones and Smalling) have to be as good Rio and Vidic at the moment," he added. "They have to oust them from the team which is going to be incredibly difficult.
"Rio, when he is fit, is still an absolute class defender. Vidic this year has that hunger and is now captain so I don't think he will give his shirt up too quickly. So it could be a while until these lads get a regular place in the first-team.
"Smalling has had a terrific season especially coming from non-league not too long ago so he deserves all the praise he's got this season for stepping into the team when he needed to.
"Phil Jones has to prove he can do it at Manchester United. Players have come to this club before with great reputations and failed to live up to expectations."