Emirates star tells fans not to believe rumours and will hold more contract talks.
Vote Now in the 2010/11 COS Awards: Make Your Voice Heard!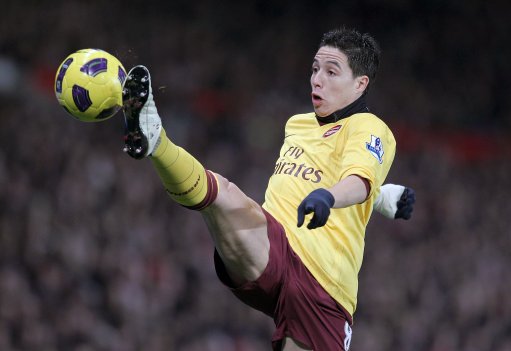 Arsenal midfielder Samir Nasri has told fans not to believe the rumours as he plans new transfer talks to remain at the club.
The 23-year-old was one of the Gunners stars last season but only has one-year left on his current deal and negotiations have stalled.
This has alerted Manchester United and Inter Milan to the availability of the French international but Nasri says these rumours are not be trusted.
It is claimed he wants more money than Arsenal are offering but he tells supporters not to panic and feels Arsenal are only around the corner from winning a first trophy for six years.
"There is not much to say apart from don't listen to all the rumours and everything that is written or said," Nasri told the club's magazine.
"Earlier in the season I spoke with the boss and we said we would talk during the summer, which is what we are going to do.
"At some point, we so want to win our desire is so big that we rush things and make mistakes.
"But it is not because we are scared, but because we want to win so badly and we don't think enough," he added.
"As a team, we all realise now what we need to do to win a trophy. We had everything to be champions, but if you look at it, every time we played to go top of the league, we never did.
"In terms of talent, I feel we had the best squad of the whole league. We played the best football. We were the best team, even if Manchester United had a good season too.
"We have improved so much. If the boss adds some good players, I really believe a trophy will be won."