Scot under pressure from rival supporters.
Vote Now in the 2010/11 COS Awards: Make Your Voice Heard!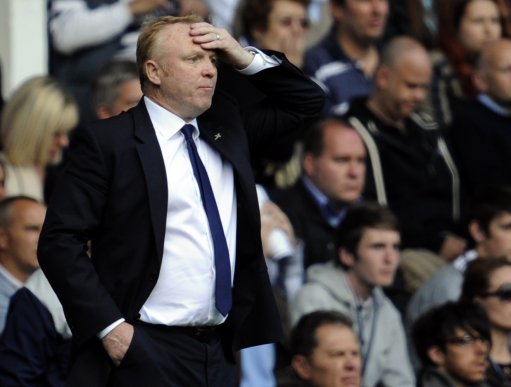 Security was stepped up around Alex McLeish last night after he received death threats from TWO sets of fans.
Furious Aston Villa and Birmingham City supporters issued the threats on Twitter and internet football forums.
Similar threats were made online to Villa's US owner Randy Lerner, who sanctioned the move.
Glaswegian McLeish, nicknamed Big Eck, quit relegated Birmingham by email and his appointment as boss of their arch-rivals Villa was confirmed yesterday.
It sparked outrage on both sides of Birmingham. One Villa fan said he was planning to shoot "judas" McLeish, while others threatened to harm his family.
A Birmingham fan Tweeted: "Big Eck needs to watch his back now, if he shows his face in the city he'll get killed."
Villa chiefs have stepped up security and extra stewards will be drafted in for McLeish's official unveiling on Monday.
A source said: "There is a lot of bad feeling across the city right now from both sets of supporters. What Alex has done is unprecedented and a few hot-heads have issued threats against him and Randy."
More than 500 supporters protested at Villa Park over McLeish's appointment and the club's training ground was vandalised.
It was also claimed Villa's ticket office ran out of money on Thursday after fans demanded their season tickets be refunded.
SOURCE: Daily Mirror
Clearly the move from St Andrews' to Villa Park is a contentious one and one can only imagine how much more pressure will be on Alex McLeish if he doesn't hit the ground running when the new seasons starts. Birmingham City supporters have every right to feel aggrieved, having seen their boss leave soon after he had relegated them back to the Championship.
Aston Villa supporters will have wanted a bigger name than the 52 year old Scot, but surely Randy Lerner only chose McLeish after other avenues failed. Surely the American didn't think to himself, "you know what, that fellow at Birmingham City did well this season, let's get him?".
Monday's official unveiling will be a good gauge of opinion as surely a number of Villa fans will turn up to voice their opinions. Oddly enough this may be one of the only times in living memory that fans of both sides agree on the same subject!