Stadium of Light star dismisses move to White Hart Lane.
Vote Now in the 2010/11 COS Awards: Make Your Voice Heard!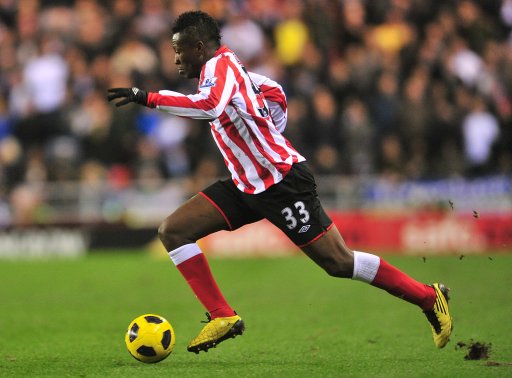 Sunderland striker Asamoah Gyan declares he is fully committed to Sunderland and is not looking for a move away from the North-East.
The 25-year-old joined Sunderland in a £13million move from Rennes last summer and scored 11 goals in his first campaign on Wearside.
The Ghana international has been linked with a move to Tottenham Hotspur as part of Peter Crouch heading the other way.
Some reports even suggested he was put up for sale but this was quickly denied by Sunderland chairman Niall Quinn. Stoke City also have the hit-man on their radar.
Gyan admits he is happy with the Black Cats and has no intention of leaving in the foreseeable future.
"I am not leaving Sunderland and I am not interested in these rumours in the newspapers and on the internet," he told MTNFootball.
"I am fully committed to Sunderland because I love the institution and traditions of this club.
"I am staying at Sunderland next season and for the foreseeable future and I am looking forward to meeting my team-mates and Sunderland fans when we return next month."