English football doesn't need a massive overhaul but top level youngsters need a more competitive way to hone their game.
Vote Now in the 2010/11 COS Awards: Make Your Voice Heard!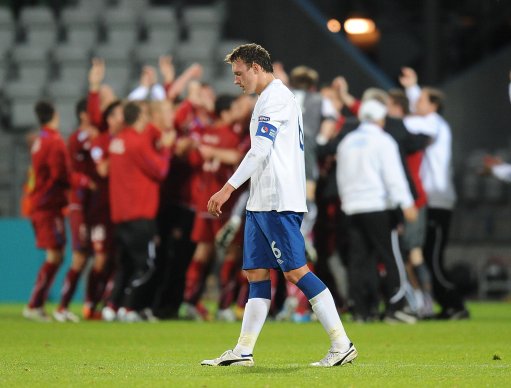 Nobody says they're gutted anymore, there's no honest display of disappointment. That just wouldn't do would it? Saying you're gutted that England have got knocked out of a competition at any level leads to ridicule. Say it on Twitter or similar and you find yourself surrounded by self-styled more knowledgeable people pointing fingers and sniggering.
What did you expect? Weren't you aware as a country we're inherently useless at football? No technical ability at all. Only able to produce players who wouldn't look out of place in a John Smith's 'Ave It advert. The whole system needs ripping up and starting again. Look at the French/Germans/Dutch/Spanish, only one of whom made it to these Under 21 finals, and copy what they do, they're much better at this level of football and it shows in their senior teams.
Maybe. Maybe not. Prior to Spain winning the Euros and World Cup, they were pretty much considered massive underachievers on the international stage. Just after the turn of the millennium they were not held up as the example to follow, yet must have been doing the right things at that time if the harvest which followed is anything to judge by. I cannot recall commentators or self-styled connoisseurs of international football screaming we should copy them during that period.
Indeed at that time the country to follow in development was France. They'd just done the same as Spain in winning the Euros and World Cup. They had the answer, they knew what they were doing yet when the players like Zidane exited stage right there was nobody to replace them. Are players like Zidane then, Xavi and Iniesta now, products of national systems or gems who come along every now and then? Can we change English football to make a Zidane?
The French system at Clairefontaine is often held up as a major reason they did so well and the lack of an English centre of equal standing is derided. Yet the French team who won the World Cup had not one graduate of the centre in it. Thierry Henry was due to come onto the field but missed out, still getting a deserved medal. Yet Henry had only been at the academy for the shortest possible time. Recent graduates of the system you'll have heard of include the Premier League's Gabriel Obertan, Hatem Ben Arfa and Abou Diaby, players of varying ability and application but probably never going to hit the heights of Henry. Marvin Martin, the excellently named and highly regarded newcomer to the France team never went near the place. Indeed he wasn't included in any France national set-up until Under 21 level.
Franck Ribery, Karim Benzema, Jeremy Menez, Yoann Gourcuff and Samir Nasri are probably going to be the stars of the France team for the next few years yet not one of them went to Clairefontaine. So if we were to copy that academy it's highly unlikely it would revolutionise the national team. Yet still a national centre modelled on the French system is deemed essential by many.
The system held in highest regard right now is Barcelona's La Masia. Not a national centre but one designed to produce players for a club, in turn providing the backbone of the national side. We simply can't copy La Masia with the current structure in English football. For example, Andres Iniesta is from Alabcete and he joined La Masia at the tender age of twelve. As it stands a youngster must live within a ninety minute drive of a club they become affiliated with, David Beckham would have been unable to join Manchester United under the current system. It can be easier to recruit players from half way around the world than from the British Isles and this of course isn't going to help the national team.
That regressive rule is likely to be scrapped for the start of the 2012-2013 season as is the rule limiting the number of hours a young player can be trained to 2000 between the ages of 10 and 18. These changes will help, I have no doubt about that but it will also see the very best prospects going to the biggest clubs and therefore struggling for game time when breaking through.
It's all very well having great prospects like Danny Welbeck, Daniel Sturridge and Phil Jones but will those three be getting regular games with their parent clubs next year? That's where we seem to be falling back. The Premier League is so competitive that to push a youngster into a team is increasingly difficult for the top clubs. Players are often sent out on loan which gets them games, usually, but also removes them from a continual development at the club they've been structured through. Reserve level football in England is of a low standard and the gulf between that the Premier League is huge. Here we can learn again from Spain and also Germany.
FC Bayern Munich II played in the third level of German football last year, real competitive football against full teams. It's not a walk in the park, indeed they were relegated but it's great experience and a world apart from reserve football in this country. Phillip Lahm, Bastian Schweinsteiger and Thomas Muller all played for the side as indeed did Owen Hagreaves. In Spain the standard is even higher, Barcelona B play in the Segunda Division and last year came third behind Betis and Rayo Vallecano. To put the level into perspective they finished ahead of teams like Celta Vigo and Valladoid. Xavi, Carles Puyol, Andres Iniesta, Lionel Messi and a whole host of others all benefitted from playing for Barcelona B. Real Madrid Castilla play in the league below and though not quite as good a production line, partly due to the club's international buying ethos, have produced players recently themselves such as Valencia's much wanted Juan Mata.
The current system in English football just cannot compete with this; the reserve standard is just not high enough. All isn't well in English football and I'm not sticking my head in the sand, putting my fingers in my ears and belting out Jerusalem to block out any negatives, but we need to focus on actual reasons rather than fashions.
We don't need to totally change the style of English football, we just need to give enough of the talented prospects the very best chance of getting to the highest level. This will take changes which are much more in depth than a national academy or a change in style. It will take changes which look like they're there to benefit the top clubs but will in turn help the national side.
It's whether English football is willing to make those steps that is in question, not our nation's ability to play football.
You can follow Annie Eaves on Twitter at @AnnieEaves