Anfield winger search leads to White Hart Lane speed merchant.
Vote Now in the 2010/11 COS Awards: Make Your Voice Heard!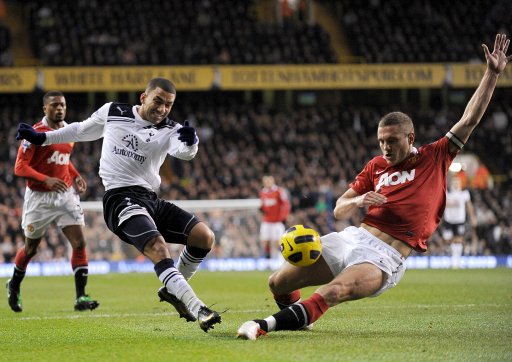 Aaron Lennon 'targeted for Spurs to Liverpool transfer'
Aaron Lennon has joined the long list of players Liverpool are hoping to sign, with the Reds rumoured to be planning a £20 million bid for the Spurs winger.
Liverpool boss Kenny Dalglish has already brought in Jordan Henderson from Sunderland this summer, but is looking to add further creative players to his squad.
Negotiations to buy Blackpool's Charlie Adam are ongoing and the Reds are expected to wrap up an £18 million deal for Aston Villa winger Stewart Downing in the near future.
Reports suggest Dalglish will turn his attention to Lennon once the Downing transfer is completed, as he attempts to bring in players who can create chances for £58 million strike duo Andy Carroll and Luis Suarez.
SOURCE: Metro
This isn't the first time that England international Aaron Lennon has been linked with a move to Liverpool but perhaps Kenny Dalglish's need to bring in effective wingers means that an offer for the 24 year old will be forthcoming and given that Harry Redknapp appears to be having a few problems with some of his top notch talent possibly set to leave the club, will open the door to a potential Anfield move?
Last season Lennon fell out with Tottenham over the way he was treated following his late pull out of the club's hugely important match with Real Madrid and posting on his Twitter account that 'saying I fell ill be4 the game is bull**** I fell ill on sunday morning where the med team put me on anti botics, but got worse b4 tues'. The ill advised rant didn't go down well with Harry Redknapp and Liverpool may hope that the North London club have not resolve the issue and that may help in their pursuit of the former Leeds United wide man.
Dalglish has been chasing a number of wingers this summer and having seen Ashley Young opt for Man United the Liverpol boss is apparently very keen on Stewart Downing but may look to bring in Lennon to play on the right so that he can have a totally re-shaped attack.
Last season's regular wide men, Maxi and Dirk Kuyt, are arguably both not the ideal solutions for their respective positions. The hard working Dutchman is a player the fans love but he is still very much a makeshift winger and may be used more effectively as a back up striker.
Maxi has already stated his intention to return to Argentina and it seems likely that Liverpool will allow the former Atletico Madrid man get his wish, even though he did look impressive towards the end of the last campaign, netting two hat-tricks in the final games of the season.