Old Trafford boss keen on landing Emirates Stadium star.
Vote Now in the 2010/11 COS Awards: Make Your Voice Heard!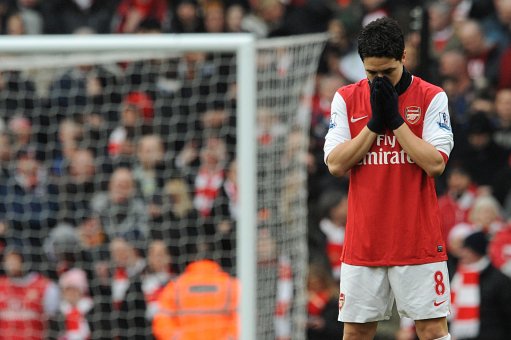 Manchester United set to lodge a £20m bid to sign Samir Nasri from Arsenal – report
The Red Devils are reportedly going to table a bid that will test the Gunners' resolve, with the Frenchman currently having only one year left on his contract at the Emirates
Manchester United are reportedly going to lodge a £20 million bid this week to acquire the services of Arsenal midfielder Samir Nasri.
The 23-year-old is thought to have been offered a five-year contract by the Gunners after his top quality showings last season. But he is yet to put pen to paper and confirm his stay at Ashburton Grove, with speculation abounding that his reluctance to commit reflects Arsenal's trophy drought and uncertainty about manager Arsene Wenger's transfer activity.
In the meantime, the midfielder has been linked with a controversial move to the Red Devils, who are fresh from becoming the most successful club in English football after surpassing Liverpool when they won their 19th league title last season.
Now The News of the World reports that United will make a £20m move to sign the Frenchman this week.
SOURCE: Goal.com
Arsenal find themselves in something of a predicament this summer. After six seasons without silverware, and perhaps more worryingly, falling to fourth spot behind Man City, a number of the club's star performers are considering their options and may well elect to leave the Emirates Stadium for pastures new. Samir Nasri has been strongly linked with a move to Old Trafford and not Sir Alex Ferguson is set to make an opening offer.
Now the bid of £20m, reported by the source above, is not as low as it at first sounds, remember the 23 year old French international only has one year left on his current contract and Arsene Wenger will not want to lose the former Marseille man for nothing next summer, a deed that Mathieu Flamini of course enacted, making him a much hated figure at the North London club once he made his move to AC Milan.
Man United have been linked with moves for a great many creative midfielders and appear to have given up on luring Inter Milan star Wesley Sneijder as the Dutchman either has no intention of leaving the San Siro or is asking for far too much money, depending on which newspaper you read.
Now Ferguson is looking to capture Nasri, who had a great season last term and has saved some of his best Arsenal performances for matches against Man United. The Man United boss is looking to freshen up his midfield following the retirement of Paul Scholes and is hoping to add more of a goal threat from that area of his side, which would make a great deal of sense as the likes of Michael Carrick, Anderson, Darron Gibson and Darren Fletcher don't offer much in that regard.
Nasri can of course play out wide but reportedly prefers playing in the hole behind the strikers which may be where Ferguson sees him plying his trade, after all Man United now have an abundances of wide men with Nani, Luis Antonio Valencia being joined by recent signing Ashley Young in that regard.
Arsenal boss Wenger has made it clear he will not sell any of his stars to Premier League club's and that is why contract rebel Gael Clichy is strongly linked with a move to Roma even though he is reportedly interested in a move to Liverpool. Cesc Fabregas has stated his intention to stay at the club but Barcelona lure ominously above as always and though they may be struggling financially they have still made recent offers for the Spanish international.
So Wenger has to decide whether refusing such an offer is preferable to maybe losing the talented playmaker for nothing in a year's time, after all Nasri may elect to wait it out, as Flamini did, in order to get the move he wishes. There is also reported interest from Italy for the pint sized flair player.