Stamford Bridge and Eastlands officials will discuss personal terms with the starlet.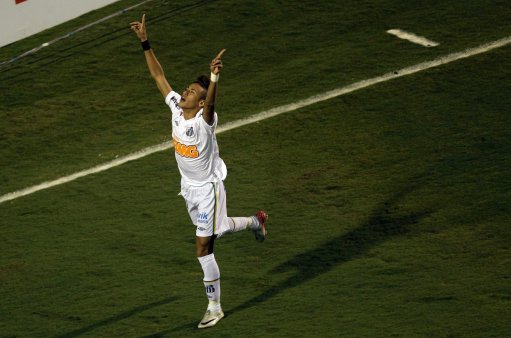 Five European clubs have agreed to pay the £40million release clause for Santos striker Neymar according to club president Luis Alvaro de Oliveira Ribeiro.
The teams – Real Madrid, Barcelona, Chelsea, Manchester City and Russian side Anzhi Makhachkala – will now discuss personal terms with the 19-year-old.
The Brazil international has enjoyed a fantastic season culminating in helping his side clinch the Copa Liberatodores against Penarol of Uruguay.
Chelsea were favourites to sign Neymar, despite having a number of bids rejected 12 months ago, but now face stiff competition from league rivals City and the Spanish clubs.
"We don't want to sell the player, but of course there is a release clause in his contract that can be paid," Ribeiro told ESPN Brasil.
"Five European clubs have offered to match the clause.
"I cannot name them because there is an agreement between Santos and the clubs, but they are the most important European clubs.
"They have asked to speak to the player and obviously we've allowed them to."
"The clubs have behaved ethically," he added. "They sought out Santos first and were willing to pay the clause.
"With this ethical approach, they can talk to anyone – with Neymar's father, with [agent] Wagner Ribeiro, and with the representatives of Neymar."
"Last year, Chelsea's attitude was different. Their first action was to seek out the player's representatives."
The news comes just a day after Ribeiro said Neymar wanted to become the best player in the world while remaining in Brazil, and he remains confident that the forward will opt to stay at Santos.
"It is becoming increasingly difficult for him to move on," he said. "These clubs can come and make their offers, but if he wants to stay at Santos then he'll say no and stay at Santos."