Eastlands star wants to go to a title challenging team.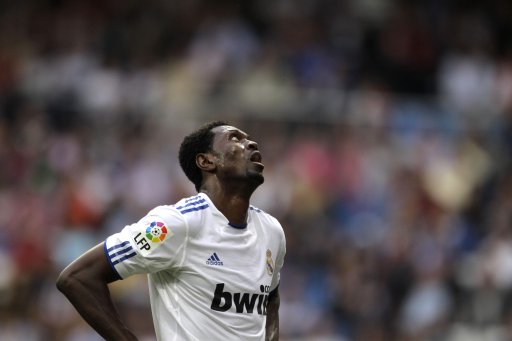 Manchester City striker Emmanuel Adebayor has dismissed speculation linking him with a summer move to Blackburn Rovers.
The 27-year-old says he wants to move to a club where he will be challenging for trophies and not mid-table obscurity.
The ex-Togo international spent the second half of last season on-loan at Real Madrid and helped the Spanish giants win the Copa del Rey.
Adebayor has also been strongly linked with Paris Saint Germain and Zenit St Petersburg but has not given up hope of a permanent move to Real.
"I say thank you to PSG for thinking of me but for all the respect I owe them, I will not go there," Adebayor said. "At Real, I got a taste for what it's like winning a trophy.
"I can only go where we play to win a trophy or win the championship and not to play mid-table.
"It is clear that I will not (win trophies) at Zenit or Blackburn."
"I'd like to stay with Los Merengues," he said. "But you know I am a footballer and what is important is to play football whether it's Manchester City or elsewhere.
"For now, I take my holidays with my family and after, when I go back to my club, we'll see."