Wembley team move ahead of Samba stars.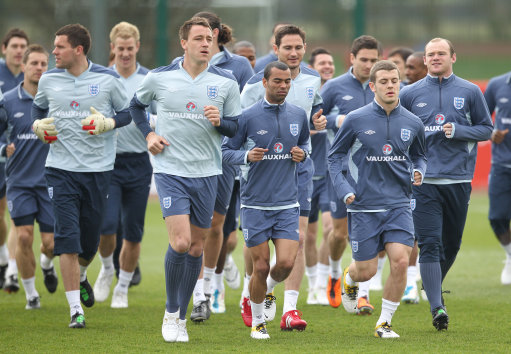 England football stars have climbed to fourth in the latest Fifa world ranking's despitea poor run of results in recent matches.
Manager Fabio Capello has guided his team above Brazil and Argentina to equal the Three Lions' best ever placing on the list.
The last time England were as high as fourth was in 1997, when they moved up as a result of a decent performance as hosts of the European Championships.
The climb has been managed despite  only reaching the last 16 in last summer's World Cup, and failing to win two of their last three qualifying matches for next summer's Euro 2012 Championships.
England's rise is due to the fact that the matches of the World Cup in South Africa last year now count 50% less towards the overall ranking.
Teams that had a strong World Cup but have not had such good results since, such as Uruguay, have experienced a big drop in ranking.
Those that did not do so well but have had decent results since then – such as England, Italy and France – have seen a boost in ranking.
Spain continue to rule the world, with their haul of 1,871 points putting them 210 clear of the World Cup finalists, Netherlands. Germany (1,417) have moved up a place to third.
England's points total of 1,146 puts them 16 ahead of fifth-placed Brazil, with Italy (1,059), Portugal (1,046) and Croatia (1,033) next in the list.
Mexico have moved up 19 places to claim a place in the top 10, 28 points ahead of Argentina (979) – who complete the top 10.
The Republic of Ireland have won their last two Euro 2012 qualifiers and that form has helped Giovanni Trapattoni's team climb three places to 31 in the standings, with 752 points.
Scotland and Northern Ireland are also on the up. The Scots are now 61st with 513 points as a result of a five-place leap, with Nigel Worthington's side – one of the countries they moved above – 15 points and one place behind them in 62nd.
But Wales' failure to pick up a single point in their four Euro 2012 qualifiers to date means they remain 114th in the rankings, level with the Faroe Islands.
FIFA rankings for June (May position):
1. Spain (1).
2. Netherlands (2).
3. Germany (4).
4. England (6).
5. Brazil (3).
6. Italy (9).
7. Portugal (8).
8. Croatia (10).
9. Mexico (28).
10. Argentina (5).
11. Norway (11).
12. Greece (12).
13. Japan (14).
14. Ivory Coast (21).
15. France (19).
16. Montenegro (24).
17. Russia (18).
18. Uruguay (7).
19. Sweden (28).
20. Denmark (27).
31. Republic of Ireland (34)
61. Scotland (66)
62. Northern Ireland
114. Wales (114)