Emirates Stadium striker to be used as a makeweight for Goodison Park attacker?!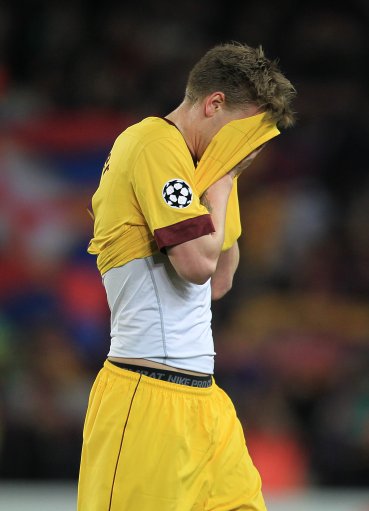 Everton star Tim Cahill has been linked with a shock summer transfer to Arsenal.
Italian website tuttomercatoweb suggests that Arsenal are ready to offer striker Nicklas Bendtner in a part-exchange deal to get Cahill to the Emirates Stadium.
Bendtner is keen on a move away from North London and has been heavily linked with a shift to German champions Borussia Dortmund but this latest report now has him remaining in the English Premier League.
31-year old Cahill, who is valued at around £14million ($AUD20.9m) on the transfer market, may be too old for Gunners boss Arsene Wenger who tries to stick to a contract policy of signing players under the age of 30.
SOURCE: Tribalfootball
Whilst it may well be the case that Nicklas Bendnter has played his last game for Arsenal, it does seem highly unlikely that this swap deal would take place. Arsene Wenger stands upon a precipice, he is fighting to keep a number of top players this summer and those who have been linked with moves away from the Emirates Stadium have all reportedly stated the need for the North London side to show ambition in the transfer market.
Tim Cahill is clearly a very effective Premier League performer but he is unlikely to be a player that will appease Samir Nasri, Cesc Fabregas or Gael Clichy. The Australian international at 31 is also clearly not going to be offered anything more than a one year deal, such is the manner in which Wenger deals with prospective 'older' signings.
David Moyes could ill afford to lose the former Millwall man either as he is a hugely influential player at Goodison Park and ably links midfield and attack netting 65 goals in seven seasons as a Toffees star. The Everton boss would probably be interested in Danish international Bendtner.
However a couple of stumbling blocks would appear to be in the way of such a move. Firstly Moyes is dealing with a shoestring budget and may not be able to afford to sign the 23 year old and indeed it seems more likely that the big striker will opt for a move abroad where apparently offers for his services in the Bundesliga are prevalent.