Emirates Stadium striker could be set to demand exit.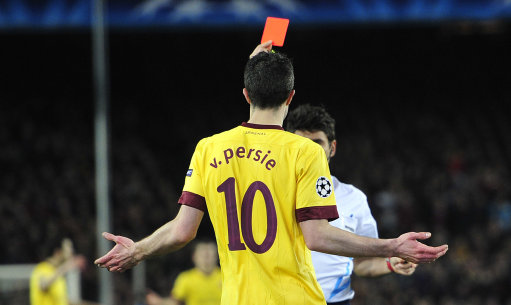 ROBIN VAN PERSIE could be the next star player to quit Arsenal.
The Gunners are set to lose wantaway captain Cesc Fabregas, fellow midfielder Samir Nasri and defender Gael Clichy.
And van Persie is ready to rock the Gunners further by handing in a transfer request IF boss Arsene Wenger fails to replace his departing Fabregas' impending departure to Barcelona would promote van Persie to skipper as the club's most experienced player, having joined from Feyenoord seven years ago.
He is deeply worried at the prospect of the club's big players being sold and promising prospects – rather than star names – being signed to fill their places.
SOURCE: Daily Star
This news, if true, will leave Arsenal supporters stunned as yet another big name player is strongly tipped to leave the North London club. The injury prone Dutchman was arguably the club's top performer last term, netting 21 goals in just 26 starts, and if the 27 year old pushes for a Gunners exit then Arsene Wenger will have a nightmare trying to effectively replace such a talented player.
The likes of Sami Nasri, Gael Clichy and Cesc Fabregas are all strongly tipped to leave the Emirates Stadium this summer after a sixth successive season without silverware. Wenger is trying to bring in new additions to his Arsenal squad but is struggling to get prospective signings to complete their moves, which is heaping more pressure on the Frenchman.
Nasri and Fabregas have reportedly demanded that the club invest in big name talent this summer and are unlikely to be that impressed with the imminent arrival of Ivory Coast striker Gervinho, seemingly the only player nearing a move to Arsenal.
Van Persie has been at the Premier League club since 2004 but thus far only has an FA Cup Winners medal to show for his time at Arsenal.