White Hart Lane side ready to sell big stars to Stamford Bridge and Eastlands outfits apparently?!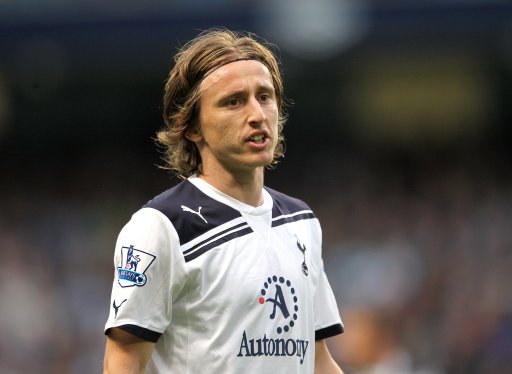 Tottenham transfer news: Luka Modric can go for £45million – but Gareth Bale would follow him
SPURS will let Luka Modric go for £45million – and watch Gareth Bale follow him through the White Hart Lane exit door.
Playmaker Modric is wanted by Roman Abramovich at Chelsea while Bale has told pals that he would like to join Manchester City.
Spurs chairman Daniel Levy claimed publicly a fortnight ago that there was not a "cat-in-hell's chance" of Modric leaving and laughed off Chelsea's £22m bid.
But now he is ­resigned to losing the Croatia star – a decision that will almost certainly result in the double-whammy Spurs fans fear, Bale waving farewell too.
The Wales ace has told pals the sale of Modric will signal the end of Tottenham's Champions League prospects and he will have to leave north London to avoid his career stalling.
A source close to the PFA Player Of The Year, who recently signed a contract extension keeping him at the club until 2015, said last night: "Gareth is just being realistic. He's worried that injuries or a slump in form would leave Spurs falling further back from the top four and end any realistic chances of him moving to a bigger club.
SOURCE: People
This source, and not us, seem to believe that Tottenham are fighting a losing battle to keep two of their big names, but could this really be the case? It would show a tremendous lack of loyalty on behalf of both Luka Modric and Gareth Bale to force their club to sell them on.
Harry Redknapp has stated repeatedly that he does not need, or want, to sell any of his top stars but now that Croatian playmaker Modric has made it abundantly clear he wants to leave White Hart Lane, what can the Spurs boss do to keep the former Dynamo Zagreb man happy?
Gareth Bale should not be so quick to follow Modric into demanding a move as his North London side stood by the Welsh international during his hesitant opening forays into the first team and whilst the youngster may be unhappy that Tottenham gave up their spot in the top four, he would do well to remember just how much the club have achieved under Harry Redknapp.
Chelsea's new boss Andre Villas-Boas is said to want Modric to help add more creativity to his Blues midfield and clearly with Frank Lampard getting on a bit, the Portuguese manager may see the pint sized Tottenham man as an ideal long term replacement for the England international.
He may also be keen on Gareth Bale to bomb on down the wings but it seems, according to this source, that a move to Eastlands may be more tempting to the 21 year old winger and perhaps it's a move that the former Southampton man would rather make than to arch London rivals Chelsea.
Redknapp has been told by chairman Daniel Levy that he must sell before he can buy but he had planned to accrue the cash by offloading squad players and could certainly afford to cash in on the likes of Robbie Keane, David Bentley, Niko Kranjcar, Alan Hutton, Sebastien Bassong, Giovani dos Santos, Wilson Palacios and Younes Kaboul, to name just eight who can happily leave Tottenham without damaging the club's starting eleven plans.