Stamford Bridge man has a bit of a moan.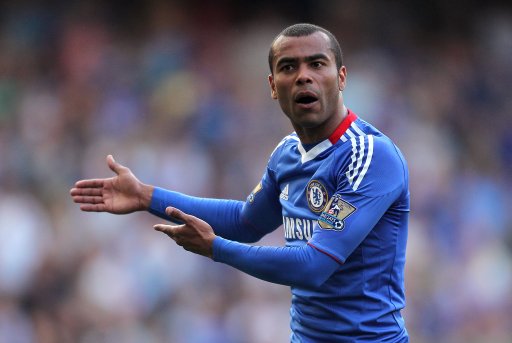 Chelsea and England defender Ashley Cole says people should judge him on his football, not reports about his private life.
Cole, who has attracted a number of negative headlines, told BBC Sport: "I've made mistakes and have just got to live with it."
But he added: "Judge me on how I play football or on when you meet me."
His remarks come after new Chelsea boss Andre Villas-Boas said he wanted his players to be role models.
Cole's conduct was questioned this year when he shot a work experience student with an air rifle at the club's training ground.
The England international, 30, also went through a very public divorce from pop star wife Cheryl last year.
Earlier in his career, he was fined £100,000 by the Premier League for holding secret talks with Chelsea while still under contract to former club Arsenal.
In an exclusive interview in New York, which will be aired on BBC's Football Focus in the coming weeks, the left-back said his mother found it difficult to read some of the stories written about him.
"What parent wouldn't?" he said. "But at the end of the day I just want to play football, I'm here to play football.
"I just wish people would judge me more on football and speak about football more than a life that people don't really know." (BBC Sport)
Ashley then went on to talk about the infamous shooting incident at Chelsea's training ground last season and admitted that whilst it was clearly an incident he regrets it was nonetheless an accident. However it is a bit rich for the England international to attempt to sway discussions about his checkered private life with calls for football fans to only judge him on his footballing life when he has made it ever so easy for the public to be distracted by off field antics.
Clearly if Mr. Cole had no allegedly 'cheated' on his wife Cheryl, or indeed did not 'find himself' in a hotel with Chelsea bigwigs ahead of his controversial move from Arsenal. The 30 year old left back has built a rod for his own back and should really just look to correct opinions by proving them wrong.
There is no doubting that the Chelsea man is one of the best in his position across Europe but even in playing terms most non Blues fans will vividly remember the defender's appalling behaviour when he was booked, and not sent off, for a horrible challenge on Tottenham's Alan Hutton which he then compounded by childishly refusing to listen to Mike Riley.
Of course Cole apologised for that offence but then neatly pointed out that he was getting terrible abuse from the Tottenham fans. Once again an occasion when Ashley has refused to understand, and take responsibility for, his own actions.
Ashley, stop telling us how much you have changed and instead get on with your business, which is playing football, and in time maybe the press will stop following and bothering you.
Once again let me repeat, Ashley Cole is perhaps one of the best left backs in Premier League history so these opinions are not in any way based on his very obvious ability, just his own personal inability to understand why he is to many, a hate figure.