Eastlands outfit look to bring in Emirates Stadium duo.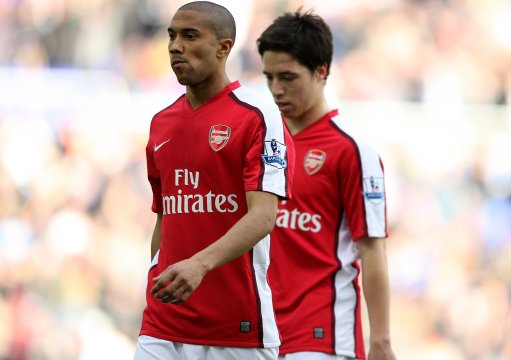 Manchester City set to finalise £27m deal for wantaway Arsenal duo Nasri and Clichy
Manchester City are pressing ahead with a £27million double bid for Arsenal pair Gael Clichy and Samir Nasri.
City are close to finalising a £7m deal for Clichy and will offer the Gunners the kind of deal that will be difficult to refuse if Nasri, as expected, fails to agree new terms at the Emirates.
Clichy was pictured leaving a restaurant in Manchester on Sunday night and he prepares to become the first big name to walk out on Arsenal this summer.
Meanwhile, Premier League champions Manchester United are still in the hunt as is new Chelsea boss Andre Villas-Boas.
Nasri, a £15.8m signing from Marseille in 2008, is not due to return to London Colney until Thursday having been granted a few extra days' holiday, as have those other Arsenal players who were involved in international duty at the start of the summer.
The Gunners midfielder hinted at a possible exit after admitting he is craving silverware.
He said: 'With no titles under your belt, you can't be in list for Ballon D'Or. I came to England for trophies because I've not won anything in my career, apart from an Under 17 European Championship in 2004.
'We already earn huge wages. The priority is to make a big career and to win titles. This is more important than everything else.
SOURCE: Daily Mail
This source appears to believe that Arsene Wenger is fighting a losing battle to keep French pair Samir Nasri and Gael Clichy at the Emirates Stadium, but would he really consider selling either player to an arch Premier League rival?
Arsenal are facing up to the knock on effects of completing six seasons without silverware and the fact that the North London side fell to fourth spot behind the Eastlands side last term. Wenger may also be feeling the strain that followed his ill advised "Finishing second is no disaster' statement that riled so many towards the end of the last campaign.
It seems the general perception that the Gunners lack ambition and are unwilling, or unable, spend big to bring in established stars, is beginning to have it's effect on those currently at the club. Cesc Fabregas is another big name player who has been strongly linked with a move to the Arsenal exit with Barcelona once again looming large.
Man City did of course snap up Emmanuel Adebayor and Kolo Toure in the summer of 2009 so clearly there is a precedent here but Arsenal have no financial need to sell Nasri or Clichy to City and could indeed wait for offers from abroad if they were resigned to losing the two players.
Roma are said to want Clichy and there is also reported interest in Nasri from Serie A, so perhaps Wenger will opt to accept offers from those markets rather than losing either player for nothing when their contracts run out in 12 months time.