Eastlands striker confirms intention to leave.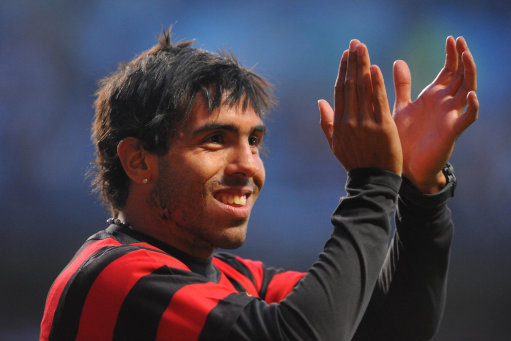 Carlos Tevez says he wants to leave Manchester City for family reasons.
The Argentina captain helped City finish third in the Premier League last season and qualify for the Champions League for the first time.
The 27-year-old, who joined City from rivals Manchester United in 2009, said he cannot continue to live in the north west without his two daughters.
"I need to be closer to them and to spend more time with them," Tevez said in a statement.
"Living without my children in Manchester has been incredibly challenging for me. Everything I do, I do for my daughters.
"I need them to be happy because my life is about them now. I need to be in a place where they can adapt.
"I hope that the people understand the difficult circumstances I have been living under the past 12 months, in regards to my family."
Tevez, who signed a five-year contract with City following a £25.5m move from Old Trafford, thanked the club's hierarchy for their support and asked for fans to empathise with his personal predicament.
"It is with great regret that I have to inform Manchester City of my wish to leave the club," added Tevez, who is currently on international duty with hosts Argentina in the Copa America.
"I would like to state that I have great respect for the club, its supporters and the owner, Sheik Mansoor, who has been nothing other than respectful to me.
"I hope that most of the City fans will understand that I have given them my all on the pitch and that my dedication to the City cause has been 100% on the pitch.
"I hope I have done my bit to help City continue their progress towards their ambition to be champions of England and to advance in the Champions League.
"I have no doubt that the players and management of City will achieve great success in the future."
Tevez's estranged partner could not settle in Manchester and returned to Argentina with their two daughters Katie and Florencia, but a move to Spain or Italy could persuade his family to return to Europe. (BBC Sport)
So there you have it. Now, what happens if Carlos Tevez moves to Spain or Italy but it turns out his family aren't in fact planning to move to Europe? Will that make a liar out of the Argentine striker? Is this a thinly disguised plot to get out of Manchester? One thing is for sure, the former Man United and West Ham man will have upset the Eastlands faithful with his latest announcement but it does seem that the ludicrously well paid goal machine is leaving Man City.
There is no doubting the success Tevez has had over the past two seasons at City but during that period the Buenos Aires born hotshot has also been something of a headache as well. Roberto Mancini has had his run ins with the 27 year old and his constant pleas to leave have become grating.
He has constantly stated his desire to move nearer to his family and to be honest anything other than a move back to Argentina will look very suspicious. Even if his family do move to Spain or Italy it will look very much like a well orchestrated plan to secure another big money move.
Mancini must now go about looking for a suitable replacement, unless the Italian believes the replacements is already at the club, and Sheikh Mansour must look to get the best price possible for a player who apparently isn't a target for either Barcelona or Real Madrid and has already been deemed to expensive a proposition by Inter Milan.