Fifa president has a catch up with African dictator.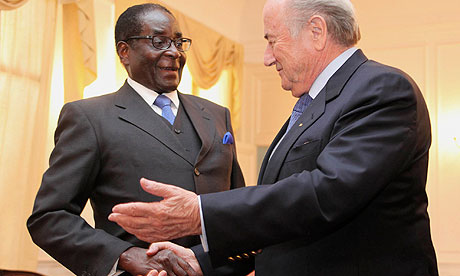 Fifa president Sepp Blatter has met Zimbabwe dictator Robert Mugabe to pledge $1million (£620,575) over four years despite the country's match-fixing scandal.
The head of the world's governing body is on a two-day visit to the region and has inspected training facilities that urgently need funding amid Zimbabwe's troubled economy.
The pledge will help football schemes in the country, while another $500,000 (£310,300) will be provided to support training under Fifa's worldwide Goal project.
Blatter was scheduled to accompany Mugabe to a women's international match against Malawi, but officials said Mugabe did not attend because of a scheduling conflict.
"Football is more than kicking a ball," Blatter said at a news conference. "I do not come to Africa to impose European football, I respect particularities and culture.
"Africa has more talent than Brazil but Africa's talent is not yet developed."
What we want to know is can our witty caughtoffside readers come up with a caption that shows what these two powerful men were really talking about.
Answers do not have to be on a postcard, just post them below and remember it's just for fun.