Anfield skipper will not go on pre-season tour.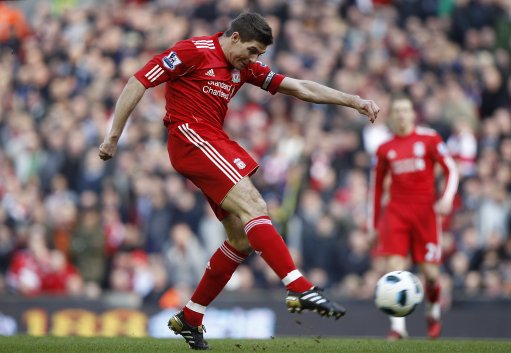 Liverpool captain Steven Gerrard is a doubt for the start of the season as he has suffered another setback in his rehabilitation from a groin injury.
The 31-year-old will miss the club's pre-season tour of China and Malaysia to continue in his efforts to recover in time.
While at the moment there is no talk about him not being ready for the start he will miss important work in getting the players fitness levels right for the new campaign.
"I'd really been looking forward to travelling out to China, Malaysia and Singapore and meeting first-hand as many of our fans as possible," Gerrard told the club's website.
"I'm really sorry that I won't now be able to do that.
"But after sitting down and talking with the medical experts and technical staff, it's been decided that the best course of action is for me to continue my rehabilitation programme at Melwood.
"It's disappointing I won't be with them, but I'm sure the lads who go out there will put a great show on for our fans."
Manager Kenny Dalglish explains that Gerrard staying at Melwood is in the best long-term interests of the club and supporters.
"Steven and the medical team have done fantastically well so far and they are in the final stages of getting him back to full training," he said.
"I'm sure there will be supporters disappointed that Steven is unable to be with us in Asia.
"But I'm sure the same people will appreciate the importance of Steven giving himself the best possible opportunity of being fit to play against Sunderland on the opening day of the new campaign.
"Steven continuing his rehabilitation programme at Melwood is in everybody's long term interests."