Eastlands club will sell to Bernabeu rival if price is rights .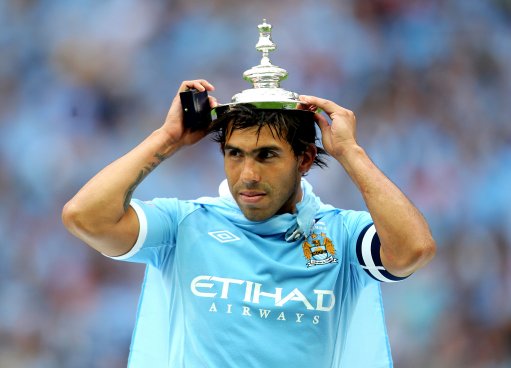 Manchester City are set to offer £40million for Atletico Madrid striker Sergio Aguero with club captain Carlos Tevez moving to Real Madrid.
The Blues talisman shocked City officials yesterday by expressing his desire to leave in order to spend more time with his family.
"I hope that the people understand the difficult circumstances I have been living under the past 12 months, in regards to my family," Tevez said.
"Living without my children in Manchester has been incredibly challenging for me.
"Everything I do, I do for my daughters, Katie and Florencia. I need to be closer to them and to spend more time with them.
"I need them to be happy because my life is about them now. I need to be in a place where they can adapt."
Tevez handed in a transfer request last December, before withdrawing it, and City manager Roberto Mancini had hoped by winning the FA Cup and gaining Champions League qualification he could persuade the goal-machine to stay.
City are looking for £50 million for Tevez, who earns £230,000 a week and has three years left to run on his contract.
The club will not sell him for a knockdown fee, as they are trying to get their finances in order in light of the introduction of Uefa's Financial Fair Play rules from next season.
Real and Inter have expressed interest in signing Tevez before, but the Italians were put off by his wage demands.
A move to Spain is likely to help Tevez's chances of convincing the mother of his children to move to Europe from their native Argentina, due to cultural similarities.
Los Blancos boss Jose Mourinho is keen to add another striker and was after Aguero, but Atletico refuse to sell to their fierce neighbours.
City will now hope to persuade the 23-year-old to snub an offer from Juventus and join them in their bid to win the Premier League and Champions League.
Aguero has a £40.6million release clause in his contract, but while City and Juventus would hope to secure a deal for less, the interest of both parties will keep the price high.