Emirates boss will not let Nou Camp discussions stop transfer plans.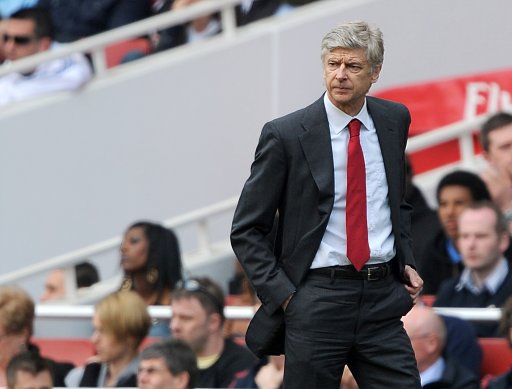 Arsenal manager Arsene Wenger will not let the long-running Cesc Fabregas transfer saga to Barcelona stop him signing five new players.
The Frenchman is aware of the growing pressure he is facing to strengthen his squad and will act to appease fans desperate for silverware.
Wenger was pictured meeting close friend and former Arsenal vice-chairman, David Dein, last weekend and it is believed Wenger was told to go for broke and spend his cash.
The sale of Gael Clichy to Manchester City will prompt him to sign Lyon defender Aly Cissokho for £13million.
The 23-year-old is seen as better option than Newcastle star Jose Enrique, who is on the radar of Liverpool.
Other departures from the Emirates are inevitable with Nicklas Bendtner, Andrey Arshavin, Denilson, Emmanuel Eboue and Manuel Almunia the first in line.
Captain Fabregas' future is in doubt also but Wenger will only sell him for the right price of £40million, with Barcelona only offering £27million.
The two men will discuss the situation this week with Wenger happy to spell out to the Spaniard that he has a contract and expects him to honour it.
Wenger will also step in to ensure Samir Nasri signs a new contract to keep him out of the clutches of Manchester United and Manchester City.
Czech Republic midfielder Tomas Rosicky will be offered a new one-year extension.
But the Gunners boss will hope to secure the £27million double signing of Bolton's Gary Cahill and Lille striker Gervinho before the team leave for their pre-season tour of the Far East on Sunday.
Gervinho is expected to have a medical today and Wenger is hoping to lure his team-mate Eden Hazard to north London also in a £20million deal.
The French champions have said he is not for sale, but Wenger is a huge fan of the Ligue 1 player of the year and is keen to sign him.
Valencia star Juan Mata is also on Wenger's radar, with the Frenchman lining up an £18million bid for the Spanish international.
Liverpool are also keen on the 23-year-old but no deal will be completed until Mata returns from holiday.