Anfield new boy may well be the missing piece of Champions League qualification jigsaw.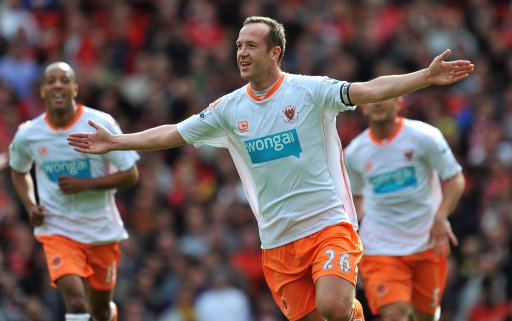 Charlie Adam's move to Liverpool appears to finally be sorted. 6 months after initially trying to buy Adam, and after weeks of tough negotiations with Karl Oyston, the Blackpool chairman, Liverpool have finally persuaded Blackpool to part with their captain after matching the undisclosed asking price, reported to be in the region of £7m plus add ons. It is suggested that the deal will see Jonjo Shelvey going the opposite way on a season-long loan, but this is yet to be confirmed. Blackpool did the right thing not selling their skipper in January in the hope that he could help save them from relegation. He couldn't, and now Liverpool have swooped, agreeing a price that is less than the reported £10m that was rejected in the January transfer window. Why Adam? Do Liverpool really need another centre midfielder? Just what will he add to the team? This transfer has caused countless debates amongst Liverpool fans and neutrals alike, and while the question of whether or not he will be a success will only be answered in time, there is enough evidence to suggest that he will be a hit.
Liverpool's transfer strategy is now common knowledge: target young players, preferably British, who have potential resale value. Jordan Henderson illustrates this strategy perfectly- a 21-year-old England international with over 70 Premier League appearances under his belt. Should he not turn out to be what they had expected in 2 or 3 years time, he is still young enough and will have enough experience to get a decent fee back for him. Adam does not quite tick the boxes like Henderson does- he is 25 years old, he does not qualify for the new homegrown rules, and he has only one season of Premier League football behind him.
However, that one season was outstanding, gaining Adam a nomination for PFA Players' Player of the Year. Factor in also the fact that in both games against Liverpool, Adam played them off the park- something acknowledged by both Jamie Carragher and Steven Gerrard during their appearance on Goals on Sunday back in March. Adam's quality and creativity on the ball was evident during these displays, as it was all season. It was noticeable that when Raul Meireles was injured towards the back end of the season, Liverpool struggled to retain possession in the midfield. Adam's arrival is a solution to this problem, but also puts huge question marks over the future of some of Liverpool's other centre midfielders.
It must be assumed that Christian Poulsen will be shown the door, provided Liverpool can find a buyer, while Jonjo Shelvey will most likely be heading out on loan in order to help his development, possibly even to Blackpool. This still leaves Steven Gerrard, Lucas, Raul Meireles, Henderson, Jay Spearing and the returning Alberto Aquilani to fight it out for a starting spot. With this many players that play in one position, why then did Dalglish feel the need to add Adam to his squad? It is possible that Meireles and/or Aquilani will not be Anfield come the close of the transfer window. Both have their credentials and can offer different qualities, but are they enough?
Meireles was the one signing by Roy Hodgson that wasn't a disaster, and he even won the PFA Fans' Player of the Year award for his first season at Anfield. He scored some memorable goals as he went through a patch of 5 goals in 6 games, including the winner against Chelsea and a wonder-strike against Wolves. However he failed to perform at the start of the season under Hodgson, granted he was played out of position and the whole team struggled, but following that purple patch following Dalglish's arrival, his form dipped again.
Meireles was always neat and tidy in possession, but there were games where he simply didn't contribute enough. There have been reports that Meireles wants an improved contract too, but at 28 years old, FSG are reluctant to offer a new contract to somebody who will have virtually no resale value by the time that contract is nearing an end. Meireles is also one of the few players that Liverpool may actually be able to make a profit on to balance the books.
As for Aquilani, it is unfortunate that he may also leave the club. When he was fit, he looked like a real asset, always looking to go forward when he had the ball and he also chipped in with a few goals and assists. Not that stats are everything, but it is funny to think that since his arrival in August 2009, and despite the fact that he was out on loan for the whole of last season, he has still given more Premier League assists (6) in that time that Luka Modric (5). Juventus refused to pay the set fee that was part of the loan agreement, while he has so far failed to attract suitors in his native Italy, where his agent claims he would be happiest. It is likely that should an Italian team offer him a chance to return to his homeland, Liverpool will let Aquilani go.
Now we come to what Adam will add to Liverpool. His passing range is something that has been recognised and lauded by all who have seen him play. When Liverpool sold Xabi Alonso to Real Madrid, they lost the fulcrum of their team. Everything went through Alonso, and that's why his departure hit them so hard. I am not suggesting that Adam will be as good as Alonso, but he does have vision and a passing range worthy of comparison.
True, the stats show that his pass accuracy is well below that of some other midfielders, but given his style of play and the amount of killer balls he attempts, this was always going to be the case. His ability to control a game and dictate the tempo will have caught Dalglish's attention, while his set pieces were one of
Blackpool's most dangerous weapons last season. So dangerous in fact that Sir Alex Ferguson stated that Adam's "corners alone are worth £10m". Having added Andy Carroll to their ranks in January, and given the threat that Carroll poses from set pieces, this will surely give Liverpool another source of goals. He may not be that strong defensively, but playing alongside Lucas should give Adam the freedom to play his own game, spreading passes from deep and breaking forward to join in attacks. His style of play is exactly what Liverpool need, and they will benefit greatly from what Adam can offer.
Adam gives more than just ability with the ball however. He is a leader and most importantly, he wants to play for Liverpool Football Club. Rumours were circulating that Manchester United and Tottenham both made bids for Adam, but the player had his heart set on a move to Liverpool. This is exactly the sort of player that every team wants. His teammates will love playing with him, and the Kop will love his stylish passing and great enthusiasm. Adam wanted Liverpool and Liverpool wanted Adam- so much so in fact that Kenny Dalglish drove Adam to Melwood for his medical. This isn't the first such incident. Go back 20 years ago to when Dalglish was in his first stint as Liverpool manager, and was trying to persuade a youth team player by the name of Robbie Fowler to commit his future to Liverpool. Dalglish saw Fowler and his father waiting for a bus home from Anfield, and insisted on going the opposite direction to his own house to drop them home. This sort of man management is typical of Dalglish and shows the player that both he and the club care.
So Liverpool's second signing of this window appears to be all but wrapped up, and everybody seems happy. Dalglish has finally gotten his man, Adam has his dream move, while Blackpool have made a significant profit on the £500,000 paid to Rangers for Adam's signature. It is rare nowadays that top class players emerge from the SPL, but in Charlie Adam, Liverpool may have just found one. Scottish players have a habit of doing well at Liverpool. Just look at the likes of Alan Hansen, Graeme Souness, Billy Liddell and of course Kenny Dalglish. It would be a daunting, near impossible task to ask Adam to follow in the footsteps of these greats, but make no mistake, Adam will relish the challenge.