Emirates starlet could be staying in north London this year.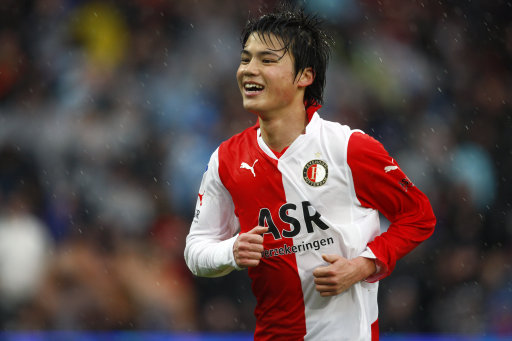 Arsenal winger Ryo Miyaichi will be assessed by manager Arsene Wenger during pre-season if he will stay at the Emirates this season.
The 18-year-old impressed in his loan spell at Feyenoord last year after the Gunners bought him straight from his Japanese high school.
He scored three goals in 12 appearances for the Dutch club but wowed fans and coaches with his undoubted ability.
But Wenger may decide to send him on another loan spell to help him gain the required experience, with Bolton Wanderers keen on acquiring the starlet.
The Frenchman is in the market for wingers but with Gervinho due to sign any day, and Juan Mata and Eden Hazard both on his radar, there may be no room for Miyaichi to impress this season.
"I have only [heard] positive reports about him," said Wenger. "He will be with us in pre-season.
"What I like about Ryo is that he has good timing with his runs and understands when to go and where to go. That is something very important.
"He knows how to use his pace and he is an intelligent player.
"He is a boy who went straight from school football to professional football and straight away was the best player in Feyenoord."