South American correspondent Tom Webber brings you all the action from the Copa America.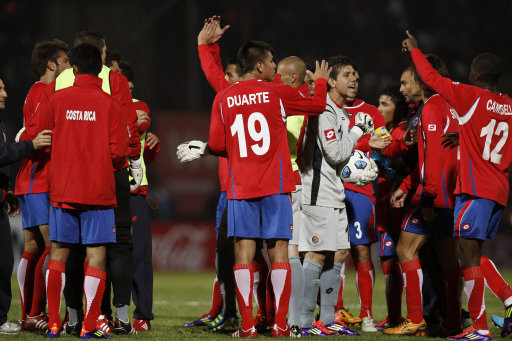 The Central American invitees have certainly proven the strength in depth in this years Copa America. They performed admirably last night against what is a decent Bolivia side, who earned a draw against Argentina in the tournament's opening game. The Costa Rica squad is a team preparing for the Olympic games in the UK next Summer. Their oldest player is but 27 and no player has over 15 caps for the country. The squad is also largely based at home, with only two players at clubs outside of Costa Rica. They sent such an inexperienced team due to their participation in the CONCACAF Gold Cup last month. The Gold Cup being their main priority as it is their home organisation's tournament.
Costa Rica eased past Bolivia in this match, attacking with great fluency and authority. They moved the ball swiftly and got forward in great numbers in the second half. The Bolivian back line could not keep up with the pace of the attack and were pulled all over the place. They failed to keep an effective line and were made to look extremely amateurish. Nowhere was this more evident than the attack that led to the first sending off of the match.
Having already taken the lead through Josue Martinez, the striker was played in with acres of space after Joel Campbell had dragged the defence apart with a decoy run in the 72nd minute. Martinez was through one-on-one but could not get the ball past Carlos Arias in the Bolivia goal. Instead, he doubled back and squared the ball in to Heiner Mora, whose shot into an open goal was blocked with a blatant hand ball by Ronald Rivero. He was given his marching orders, but much like Luis Suarez at last years World Cup, the resulting penalty was not put away. This kept the game at 1-0. A fantastic double save by Arias from Allen Guevara's penalty kept the tie at 1-0, though this would not be the case for long.
Costa Rica continued to attack and after Joel Campbell was brought down on the edge of the area as he ran across the defenders, Walter Flores was subsequently sent off for the Bolivians no more than 5 minutes after their first red card. A combination of relentless attack from Costa Rica, and Bolivia going down to 9 men, led to the second goal that clinched the game. It was a 4 on 4 situation and Mora was carrying the ball in the Bolivian half. Two defenders were drawn to the ball allowing Campbell to sneak in behind them. The defensive line became more of a defensive arrow and Mora's ball found the young striker who duly tucked the ball home. Campbell was a constant thorn in the side of Bolivia and his pace as well as his ability to run with the ball caused them problems all night.
Something else to feature in the game was how adept from set-pieces the Costa Rican players were. In particular David Guzman and Campbell. Both players hit the woodwork during the game from free kicks. Campbell's left footed curler was just too high as it rattled the bar from about 20 yards out. Guzman, who impressed in his sides previous game against Colombia, also hit the outside of the post as he bent a free kick in from the left using his right boot. A few more inches to the right and it would have been a fantastic goal. Argentina will need to avoid giving free kicks away in their upcoming match as Costa Rica will provide a certain threat from them.
Despite sending a young, inexperienced team to the competition, Costa Rica have shown they have what it takes to compete. They have some talented young players in Campbell, Martinez, Guzman and Mora, who supplies the vast majority of experience. It may be worth noting that all the players I have just mentioned play for the same club, Saprissa. Along with fellow club mates Cesar Elizondo, Oscar Duarte and Goalkeeper Mainor Alvarez, they make 7 Saprissa players in the Costa Rica squad. No wonder they are not finding it too difficult to attack with such fluency. The three points they earned were crucial if they were to have any hope of progressing, and this win will have done them wonders ahead of a potentially tricky tie with Argentina.
On the other hand, for Bolivia, it is a disappointing result after a promising opening game. They will be displeased with their performance and have now made it that much harder for themselves to qualify. They must get a win against Colombia to stand any chance of qualifying for the knockout stages. The Bolivians will also need to grab a few goals, so Marcelo Moreno Martins will need to pick up his game as he is his sides top goalscorer. Despite this title he still only has 8 senior international goals and so his side face an extremely difficult final match.